Agrichemicals: India Has Room to Grow
India is growing and it is growing at a fast pace. The growth has been seen on every front — population, social, and infrastructural. This has put strain on agriculture as a sector because of the dependence of a large part of the population on it. Crop protection chemicals, in turn, play a very important role in supporting this estimated 70% of the population that is dependent on agriculture. Offsetting the benefits of crop protection to some extent is a deteriorating climate that has added to the misery of farmers.
In recent years this growing pressure on agriculture in India has increased the use of crop protection chemicals by farmers to manage pests, diseases, and weeds. These chemicals also help in increasing the yield of the crop, which is critical when land is becoming a scarce resource needed to cater to the requirements of food, animal feed, and energy crops. Globally, as in India, these chemicals have helped farmers to improve production and keep up with the pace of food demand.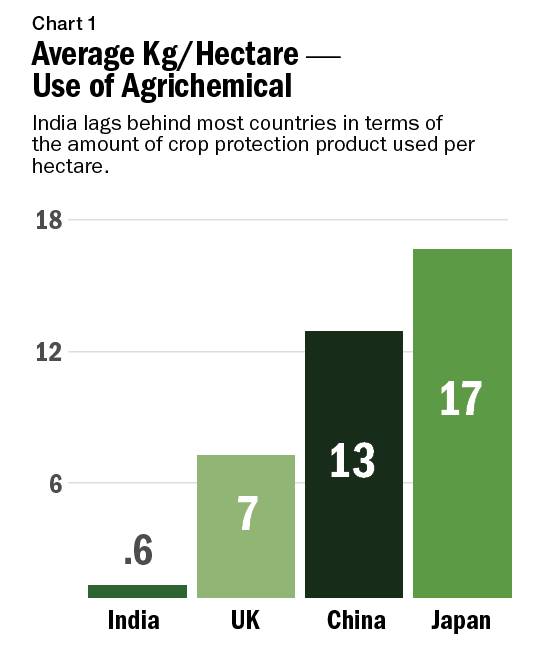 While the Asia-Pacific region is the largest global market for crop protection products, India in particular offers even greater growth potential for the industry going forward. This is in part due to rapid population growth, improving economics, and reduction in arable land. As an illustration of potential with use of crop protection products as of today, it is estimated that still more than 20% to 30% of the total produce is destroyed by pests and diseases in India and cause an annual crop loss of INR 50,000 crore ($7.5 billion).
Research reports have shown that Indian farmers need to increase the use of crop protection chemicals, however, due to lack of per capita income, low awareness, education levels, and limited reach, India is still far behind other countries in terms of crop protection products usage. This creates a huge untapped market, offering tremendous growth potential in India's crop protection industry.
Crop Protection Industry Structure
India's crop protection industry is generic in nature and around 80% of the molecules are non-patented.
According to Pesticide Monitoring Unit (GOI) there are about 125 technical-grade manufacturers, (including about 10 multinationals) more than 800 formulators, and over 145,000 distributors in India. Over 60 technical-grade pesticides are being manufactured indigenously.
Crop protection chemicals are manufactured as technical grades and converted into formulations for agricultural use. The crop protection industry consists of technical grade manufacturers, formulators producing the end products, distributors, and end use customers.
Technical-grade manufacturers sell high purity chemicals in bulk (generally in drums of 200 to 250 kg) to formulators. Formulators, in turn, prepare formulations by adding inert carriers, solvents, surface active agents, etc. These formulations are packed for retail sale and bought by the farmers.
Indian Crop Protection Market – As an Industry
India is among the world's leading crop production manufacturers in the world, in fourth place after the U.S., Japan, and China. The industry is exporting approximately 50% of its volume with the rest consumed in the domestic market.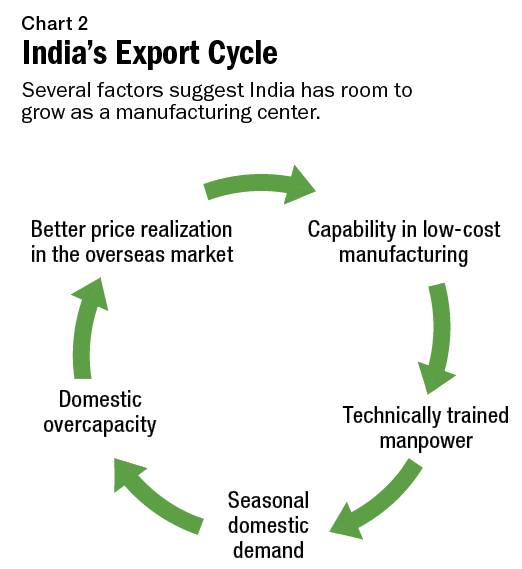 As per the report presented by FICCI in collaboration with TATA strategic management group, the Indian crop protection market will keep on growing at a steady pace. It is estimated that the overall value of production (export and domestic) is approximately $4.25 billion and this will reach $7.5 billion in year 2019. Exports will account for the bulk of the increase, growing by some 166% whereas as the domestic market will grow from $2.2 million to $3.3 million.
Kleffmann AgriGlobe® data shows that the Indian crop protection domestic market was estimated at the $2.1-billion level in 2016 growing after what was a difficult year in 2015, agreeing with the FICCI / TATA conclusions.
In terms of overall exports from India, agrichemicals contribute a good chunk of the total value exported out of India. Within the total exported commodities, agrichemicals amounted to some 5.19% of the total value in 2015-16. Indeed agrichemicals are within the top 10 commodities that India exports, illustrating the importance of the industry to the nation. The U.S., Asia, and Europe are India's major exporting destinations.
Despite being second to China in terms of generic pesticide production capabilities, India has been historically a key source of technical material and final formulated product utilized in the global market. This has been particularly so for insecticides historically and increasing so now for fungicides. Pressures on the Chinese "production machine," especially the new environmental regulations and constraints, are making Indian-manufactured material increasingly competitive on the global market.

Export opportunities
For contract manufacturing and exports of pesticides, key growth drivers include India's capability in low cost manufacturing, the availability of technically trained resources, seasonal domestic demand, overcapacity, better price realization globally, and a strong presence in generic pesticide manufacturing. Patents will expire on agrichemicals with a value of $4.1 billion by 2020, many of them in the insecticide sector, which is traditionally the area of strength for Indian manufacturers. This provides significant export opportunities for Indian companies who have expertise in manufacturing generic products.
Domestic opportunities
In the past, the availability of cheap labor for manual weed picking has limited growth for herbicides. But today's labor shortages and rising labor costs have increased use of herbicides historically with an increase of some 15% anticipated over the next few years. Although still the smallest sector (as compared to insecticides or herbicides), fungicides have almost doubled in value over the last five years and growth is expected to continue in this high-value sector.
India remains a country of very low consumption of pesticides and on a per-hectare basis; consumption of pesticides in India remains amongst the lowest in the world — 0.6 kg/ha compared to 13 kg/ha in China. Over time usage will inevitably increase to help boost yields.