Policy Meetings Aim to Improve Connectivity in Africa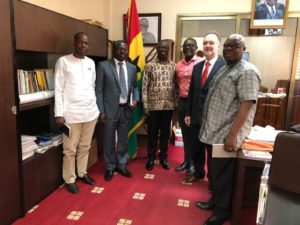 Andre Laperriere, Executive Director of the GODAN Initiative (Global Open Data for Agriculture and Nutrition), was in Ghana this week at a series of meetings with Ministers and representatives from the public and private sector as part of GODAN's efforts to support common Open Data and Agricultural policy in Eastern Africa.
Laperriere met with Dr. Grace Bediako, Director General of the National Development Planning Commission (NDPC); The Honourable Asomah-Cheremeh, Minister of Lands and Natural Resources; The Honourable Dr Norah Gyiele, Minister of State for Food and Agriculture; Chief State Statistician Prof. Samuel Annim; and Wisdom Donkor, President & CEO, Africa Open Data and Internet Research Foundation to discuss the organization of a high-level regional Summit to be held in Accra this October.
The Africa Geospatial Data and Internet Conference 2019 will be held from 22-24 October, bringing together stakeholders from across Africa to set the agenda on Africa's digital future leveraging geospatial, open data, ICTs and internet technologies in Africa. It aims to bring a greater connectivity across the continent to the geospatial and Internet world. The event will include an exhibition, showcasing state-of-the-art technologies, products and application solutions from leading companies, startups, academic/research institutions, entrepreneurs and related organizations.
GODAN is a network of partners from over 115 countries worldwide. It is made up of representatives from government, international and private sector organizations all committed to making agricultural and nutrition-relevant data available, accessible and usable worldwide.