Jim DeLisi's latest index of formulated imports into the U.S. shows 2.5% growth in herbicides customs value through November 2016 from 2015.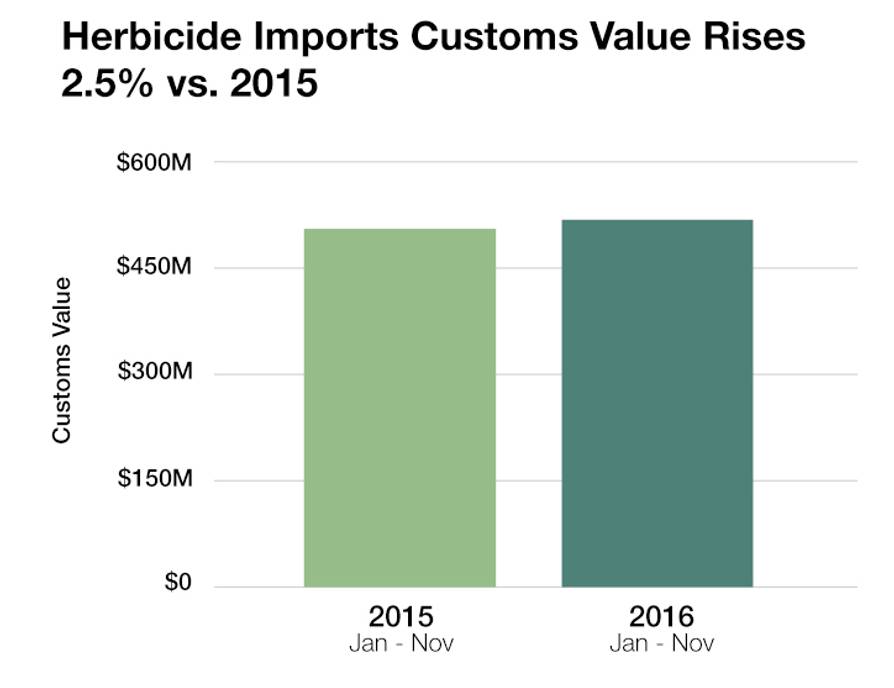 New Entries:
Carbendazim (fungicide): 2 (36 MT) container-loads came into Newark, NJ from China. Neither the importer nor exporter were identified.
Monsanto's Lasso herbicide (alachlor): 22 MT from Japan arrived into Los Angeles. Neither the importer nor exporter were identified.
Now that the duty suspension process has closed, we did look for new items that have been missed in the past; however, no additions were made.
Duty Suspension Update:
As you know, the process for requesting duty suspensions ended on Dec. 12, 2016. As expected, many products were nominated by the agrichemical industry. We have issued a complete list related to the agchem industry, including intermediates.
We've just learned that while the USITC will open up the list for a 45-day comment period, the list to be reviewed should not be considered to be "accepted petitions." The existed working list will simply include a "comment button." The USITC is reporting that until it issues a preliminary report to Congress mid-year, no such list of "accepted petitions" will be made public. It is still vitally important that the list be carefully reviewed, but we will remain in suspense for a few more months before we know which petitions are considered complete.
Misclassifications and/or Omissions:
Diurex, a herbicide imported by Adama, has been included in this edition. We also went back to 2013 to include previous years' imports.
V.M. (Jim) DeLisi, Fanwood Chemical, Inc. [email protected] +908-322-8440
---
Jim DeLisi is President of Fanwood Chemical, Inc. and has been with the company for 38 years. He has expertise in the tracing of imports and exports, both here and abroad, the sale of specialty chemicals and intermediates internationally, as well as the marketing of toll manufacturing capabilities.