Jim DeLisi's latest index of formulated imports into the U.S. shows continued significant growth in value of fungicide imports for the year thus far.
DeLisi of Fanwood Chemical monitors all pesticide products entering the U.S. by vessel.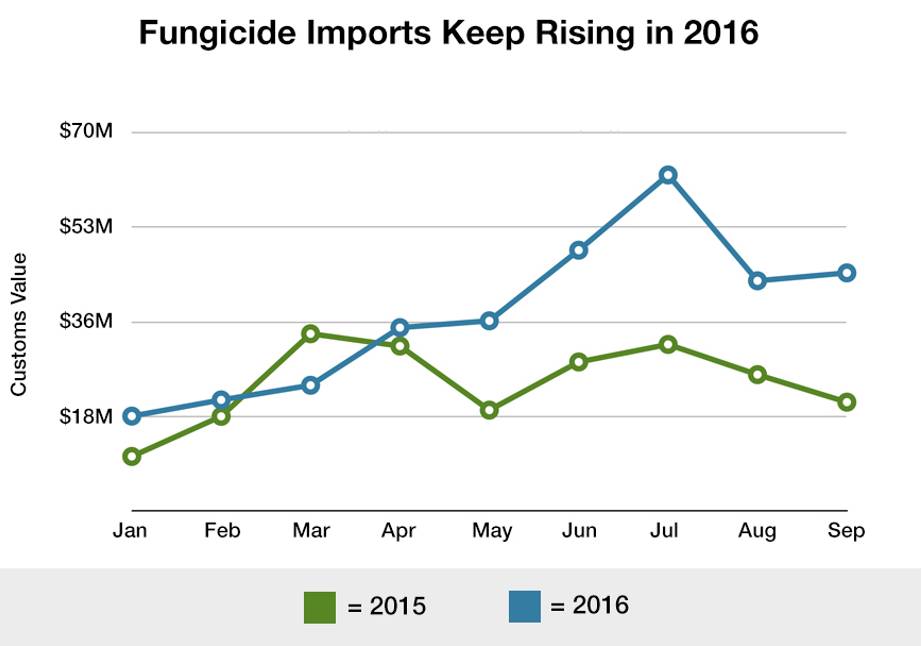 New Entries:
Benomyl was imported from Brazil (IPEL Itibanyl Products) by Antilliaanse Verffabriek, a Belgian paint company.
Notes:
This report is dated Nov. 7, 2016. There are a few data entry points that are only available after Census details are published. This is now and will remain the "rate determining step."
Detailed reports, including our best efforts to determine values are available for most if not all of the materials included in this report. (If we don't already have them, they surely can be created!)
General notes to table above and disclaimer:
The source of this data is PIERS and U.S. Census data. Whenever additional information is gleamed from a careful review of EPA notices of arrival, this data is added to the report.
The details in this report since July 2014 are the results of our efforts. All of the information prior to this time is the result of Dick Buhn's work.
All quantities are in pounds of AI. In each instance, we use our best efforts to convert all of the import entries back to the AI quantity, except in the instances of combination products, where no effort is made to reduce the volume to report only on the AI content.
In many instances, the totals will be slightly overstated as often PIERS records the gross weight of a shipment, not the net weight. We use our best efforts to report net weights wherever possible.
We use our best efforts to pull out all of the relevant data we can find in PIERS and Census to produce this report. It is not guaranteed to be complete or accurate.
V.M. (Jim) DeLisi, Fanwood Chemical, Inc. [email protected] +908-322-8440
---
Jim DeLisi is President of Fanwood Chemical, Inc. and has been with the company for 38 years. He has expertise in the tracing of imports and exports, both here and abroad, the sale of specialty chemicals and intermediates internationally, as well as the marketing of toll manufacturing capabilities.