CCM: Top 10 Glyphosate Companies in China in 2015
CCM named the top 10 Chinese glyphosate companies based on revenue from their respective glyphosate businesses in 2015. Sichuan Fuhua Tongda Agro-chemical Technology Co., Ltd. ranked first, followed by Zhejiang Wynca Chemical Industry Group Co., Ltd., and Hubei Trisun Chemicals Co., Ltd.
There were about 30 companies producing glyphosate TC and the several hundred companies producing glyphosate formulations in China in 2015, according to CCM's research. Based on the revenue from glyphosate business, CCM ranked the top 10 Chinese glyphosate companies in 2015: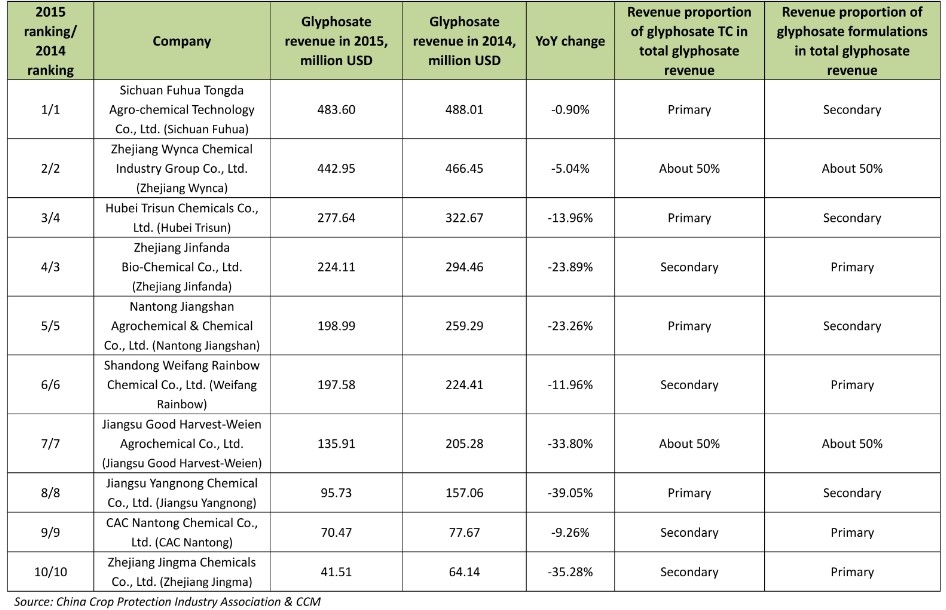 Among these 10 glyphosate companies, some regard glyphosate as their main business, like Sichuan Fuhua; some like Jiangsu Yangnong do not take glyphosate as their major business. As a whole, glyphosate is still an important part of their business. In 2015, the total glyphosate revenue for these 10 companies was around $2.56 billion, accounting for 70.43% of their total pesticide revenue. Glyphosate revenue from each of them showed year-over-year decline, mainly affected by the low glyphosate price in 2015.
Hubei Trisun replaced Zhejiang Jinfanda Bio-Chemical Co., Ltd. (Zhejiang Jinfanda), ranking the third place this time. The fall of Zhejiang Jinfanda in the list was mainly due to its decline in revenue from glyphosate TC in 2015.
In 2014, Hubei Trisun sold most of its glyphosate TC to Zhejiang Jinfanda. After Zhejiang Jinfanda transferred Hubei Trisun to Hubei Xingfa Chemicals Group Co., Ltd. (Hubei Xingfa) in H2 2014, glyphosate TC from Hubei Trisun would mainly be sold through Hubei Xingfa's subsidiary. The loss of glyphosate TC from Hubei Trisun was the major reason to explain Zhejiang Jinfanda's decline in glyphosate TC revenue in 2015.
Revenue from glyphosate business can be divided into the revenue from glyphosate TC and that from glyphosate formulations. Sichuan Fuhua, Hubei Trisun, Nantong Jiangshan, and Jiangsu Yangnong were mainly ranked by their revenue from glyphosate TC while Zhejiang Jinfanda, Weifang Rainbow, CAC Nantong, and Zhejiang Jingma were mainly ranked by their glyphosate formulation revenue. And the other made almost as much revenue from technical as from formulations.
Regarding the geographical position, these 10 glyphosate companies are mainly located in the coastal areas of East China, such as Jiangsu, Zhejiang and Shandong provinces. In detail, 4 of them are located in Jiangsu, namely Nantong Jiangshan, Jiangsu Good Harvest-Weien, Jiangsu Yangnong and CAC Nantong; Zhejiang Wynca, Zhejiang Jinfanda and Zhejiang Jingma are situated in Zhejiang; Weifang Rainbow is located in Shandong. Besides, Hubei Trisun is established in Hubei (Central China) and Sichuan Fuhua is located in Sichuan (Southwest China).