Precision Application and Crop Protection: What's Your View?
The use of precision application has seen huge growth in recent years as regulatory agencies and consumer demand put pressure on the use of pesticides and as the technology continues to evolve and improve. As adoption grows, AgriBusiness Global wants to better understand how the industry views this growing trend and learn how it might affect change going forward.
Precision agriculture is still in its infancy in many parts of the world. Not surprisingly, the vast majority of companies responding to the "Precision Application and Crop Protection: What's Your View?' survey have yet to involve their operations with precision application. Only 26.7% of respondents to the survey work with precision agriculture technology, but more than 82% of the respondents believe precision/variable-rate application of crop protection is positioned for significant growth in the next 12 months. Less than 5% of respondents either disagreed or strongly disagreed with that statement.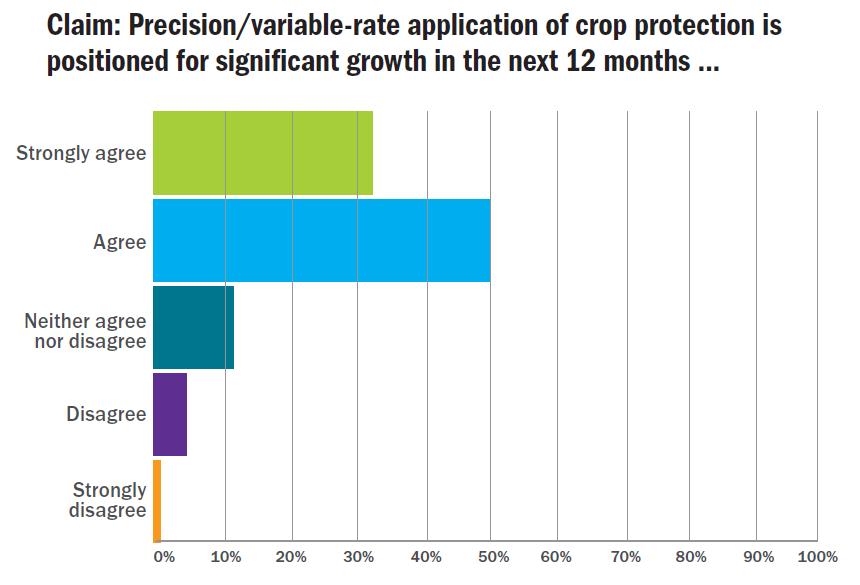 As one respondent to the survey said: "Precision applications will be key in the near future to maintain the growing yields, sustainability, and to be prepared for future regulations and social pressure."
The changes to input application will come by air and ground. More than 86% of respondents think drones/UAVs will have a big impact or some impact on crop application. Even more (92%) say see-and-spray/variable-rate will have a big impact or at least some impact on crop protection application.
"Developing new formulations should be the first step. There are opportunities for formulators here, but we're just not there as an industry," says C.S. Liew, Managing Director, Pacific Agriscience Pte Ltd, and AgriBusiness Global Advisory Board member. "It's kind of a chicken and egg situation because, for drone applications to grow, companies need to create new formulations."
Drones will have the biggest impact in North America, according to the survey, with just over 50% of respondents ranking that region as where drones/UAVs will eventually change the crop input application space. Currently the U.S. is hampered by regulations that require drone operators to have line of sight to their drones as they're being operated, and products must be labeled for aerial application. Large-acre crops also put limitations on technology that has limited battery life and payload.
The rules are less strict in China/East Asia, which ranked fourth on the list of regions where drones/UAVs will have the biggest impact. China/East Asia fell behind Western Europe and South America.
There are other factors that will vary the rate of drone application around the world.
"Countries that have highly regulated markets, their regulatory authorities will need additional data generated for all product registrations to allow for the high variance of applications rates and methods with emerging precision application technology equipment and techniques," said one survey respondent. "This would hamper any early adoption due to both costs and time to generate data."
Ground-based solutions followed a similar pattern to the aerial solution, with North America, Western Europe, and South America taking the top three spots where these solutions will have the biggest impact. China/East Asia slipped to the fifth spot behind Eastern Europe.
It's not just regulatory pressure driving the growth of precision application, not the least of which are the challenges surrounding glyphosate. Regulations restricting its use and growing weed resistance are helping to push interest in precision/variable-rate application of crop protection. According to the survey, 49% said the challenges of glyphosate are very much driving changes.
For the changes to take hold across the industry, this new technology needs to be embraced throughout the supply chain.
"Retailers need to do a better job of embracing precision application and taking it beyond variable rate of fertilizers and apply the concept to crop protection while developing and writing prescriptions for their farmer customers," one survey respondent wrote. "This represents a significant opportunity for them to replace profitability via services to retain customers and replace profit lost to decreasing margins due to the industry being 90% off patent. Stewardship will also demand it. Technologies and companies that can deliver prescription application of agrichemicals will win."
The technology involved in creating the active ingredients has become more sophisticated over the decades, allowing growers to decrease the amount of pesticides they've needed to spray on crops. Precision applications have the potential to further decrease the amount of product sprayed. Moreover, nearly three quarters of respondents agree with the statement that precision application technology will reduce the volume of agrichemicals sold in the next 12 to 24 months.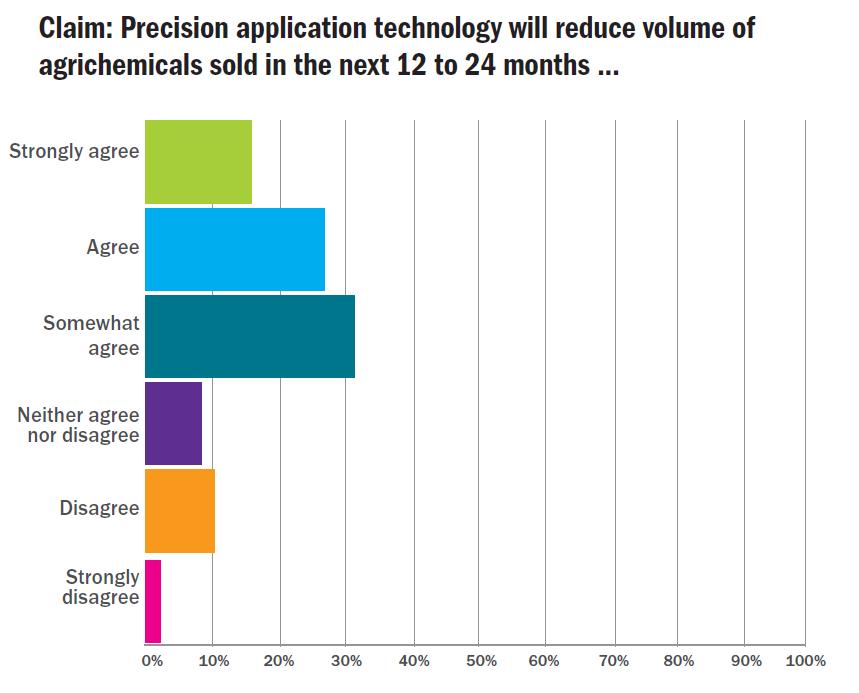 "The decrease in the number of liters of products can be inconvenient for the manufacturing companies," one respondent said. "But a new formulation that allows a better behavior in drones/UAVS can be more profitable than selling many liters."
Even those who think it might take longer know precision application is coming.
"The visionaries have this one right, but the technical complexities are greater than anticipated. The timelines will be longer than predicted before UAV spraying or ground see-and-spray are a significant portion of acres sprayed," one respondent said. "Farmers shouldn't double-guess the scheduled purchase of their next high-wheel field sprayer."
Another respondent put it this way: "Much like most practices, precision application of crop protection products will have its place; but it will not be the end all be all."
The challenge for many companies interested in precision agriculture is where to invest their money and energy. The key is finding the right organization already in the field. As one respondent said, "Seed and fertilizer companies, too, even biological product (producers), need this technology."
More than 90% of survey respondents agree with the statement "agrichemical companies and precision application technology companies will need to explore formal business partnerships within the next 12 to 24 months."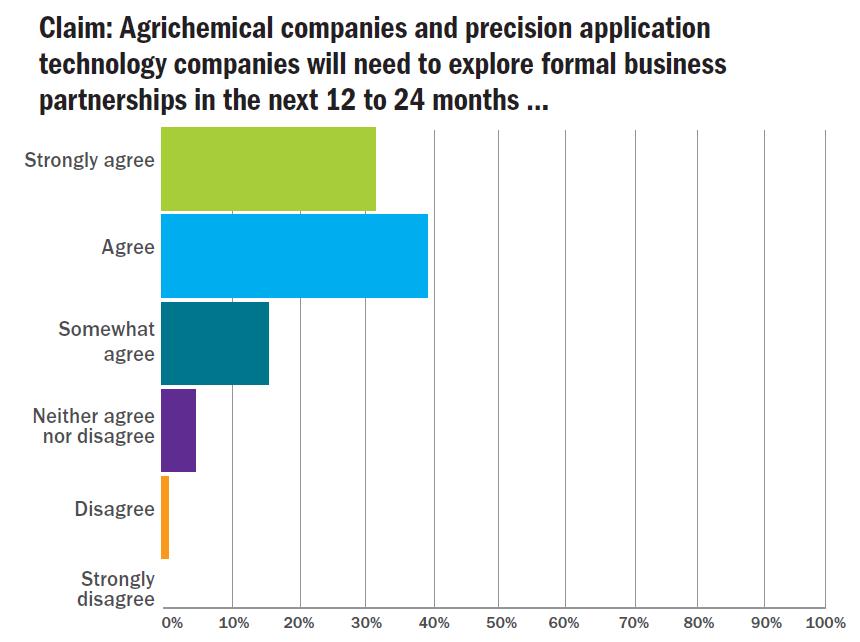 And, of course, precision application is only one part of the precision agriculture offering. As one respondent stated: "New innovative application methods are required. Only using drones or precision sprayers won't be enough."
The next several years should prove interesting for precision application specifically and precision agriculture in general. The results of this survey suggest this is no passing fad, and that companies should prepare to deal with this growing trend. One respondent to the survey suggests the coming changes will have huge and lasting impact on the industry: "Precision agriculture will be next revolution after the Green Revolution."
About the Survey
There were 210 respondents from 57 countries. The respondents were primarily manufacturers (36%) and distributors/retailers/co-op members (25%). The remainder was divided among university/government, association/NGO, contract research organization, consulting, and others. Of the respondent companies, 71% are involved in agrichemicals, 50.5% deal with biologicals/biocontrols, and 48% work with biostimulants. Some 38% work with seed treatments, and 36% deal with micronutrients, and 34% work with NPK fertilizers / macronutrients. More than a quarter (28.5%) work with adjuvants/inerts. Currently only 26.7% work with precision agriculture technology, slightly more than the 23.8% who deal with equipment.