As Agchem Complexity Grows, Specialists Take Off Some of the Heat
It's a given that resistance to active ingredients and higher regulatory hurdles are demanding more of agrichemical companies than ever before. Specialty chemical companies are stepping in to help take off some of the heat, and get their products to market more quickly and efficiently.
Market surveys in the agrichemicals sector have shown that resistance to existing AIs and more stringent official requirements are leading to ever more complex molecular structures that entail correspondingly sophisticated synthetic pathways. As a result, innovators are increasingly focusing their in-house resources first on identifying and developing AIs and then registering and marketing them.
Specialist suppliers, at the same time, are being used more and more for developing the production processes for these new molecules.
The CABB Group, the German manufacturer of chemical intermediates and finished products, said it will launch a customized chemical production process service called ChemCreations for the agrichemicals and specialty chemicals sectors worldwide, beginning June 20.
A team of specialist chemists, process engineers, technicians, and safety experts will create the optimum manufacturing process for the customer's specific molecule. CABB can then carry out the resultant process on a commercial contract manufacturing basis.
The service is broken down into individual modules: route scouting, process research, process development and pilot production. This step-by-step procedure means that customers can opt for complete process development or just parts of it. What the service means for the innovating companies is a flexible access to specific skills and a more efficient, faster way of getting products to market, says CABB CEO Peter Vanacker.
The Custom Manufacturing Business Unit of CABB has decades of experience in scaling up processes from the laboratory to a commercial scale. The necessary skills in process development, handling challenging chemical technologies and designing processes and plants are backed by ultra-modern laboratory facilities and a dedicated pilot line at the Pratteln site in Switzerland.
In an interview with AgriBusiness Global, Dr. Thomas Eizenhöfer, general manager of The CABB Group's Custom Manufacturing Business Unit, discussed some of the key aspects of the new service.
Q: What were the driving factors behind this move to create a custom chemicals service?
Eizenhöfer: CABB has been doing demanding process development for many years now, but it's always been embedded in commercial custom manufacturing projects.
In talking with customers, we heard again and again how their R&D departments are having to create increasingly complex molecular structures that naturally entail correspondingly sophisticated synthetic pathways. Two key factors driving this trend are growing resistance to existing active ingredients and more stringent requirements and government regulations. And such work demands a high level of expertise, lab equipment and training, all of which are expensive for companies to maintain in-house.
So the need for specialist suppliers that can help develop these processes in the innovation and go-to-market phases is growing, even when there isn't a corresponding need to outsource actual production later on.
That's why we decided to offer CABB's vast experience in establishing safe, efficient and cost-effective manufacturing processes for complex structures as a separate consulting service called ChemCreations. Not only does this outsourcing model help companies manage resources more economically, it helps them get new and more promising products to market faster. And with our step-by-step, pay-as-you-go approach, clients can choose at what points in the development process they'd like our help.
Q: Who and where is your target customer in the agchem space?
Eizenhöfer: Customers for ChemCreations are primarily the industry's innovators rather than generic manufacturers.
We have long-standing relationships with most of the large global agchem players and know there's an interest in this kind of service. At the same time, we believe ChemCreations – especially given its modular set-up that offers clients maximum flexibility – will also be attractive to medium-sized specialists with a more regional scope.
One point of particular importance to these innovators is intellectual property. In our traditional custom manufacturing work, we often use our customers' IP. As a result, CABB has a long track record of respecting, protecting and defending that property against any misuse.
With ChemCreations, any additional IP we may generate as part of a project will be owned exclusively by the customer. We have no intention of seeking downstream IP revenue or filing patents that would limit our customers' freedom to operate. In return, we only ask that CABB be able to use that knowledge in future projects as long as the products' applications will not compete.
Q: How can companies make a service like this economically feasible given low commodity prices?
Eizenhöfer: Developing a new crop protection product requires huge investments, which means the innovator will have to market it at an adequate price. Besides that, ChemCreations' core proposition consists of flexibility, expertise and assets rather than pure cost savings. Customers get access to our R&D team's experience and specialized knowledge as well as all the necessary research infrastructure in terms of lab equipment and a dedicated pilot line.
Q: Does CABB also manufacture the chemicals in house, and are any biologicals incorporated?
Eizenhöfer: One of our advantages is indeed the ability to smoothly transfer a process that we've developed for a customer into commercial custom manufacturing.
Q: Can you explain the step-by-step process in more detail?
Eizenhöfer: The ChemCreations service lets clients tap our experience and expertise through four modules — route scouting, process research, process development and piloting — with the option to choose when to bring us in and when to have us step out.
When closing a module, the customer receives all pertinent technical documentation such as safety and sustainability assessments and any related IP. Once pilot production is completed, CABB will deliver a detailed campaign report that can serve as the basis for commercial production. And we're always available to help our client transform the project from lab-scale piloting to commercial-scale custom manufacturing.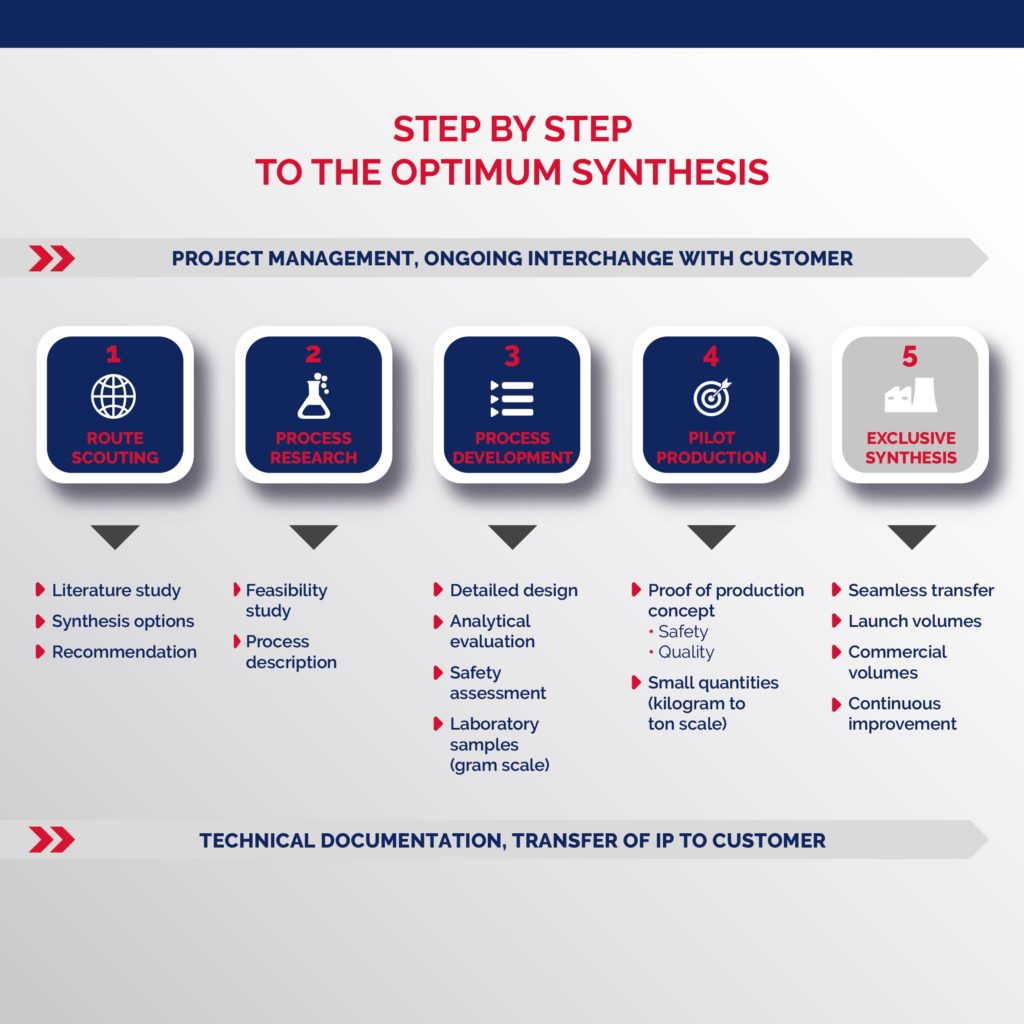 Q: Can you share any case studies?
Eizenhöfer: We have a number of case studies from our custom manufacturing activities that demonstrate relevant process development skills in terms of process efficiency, reduction of complexity or quality assurance, among others. Readers who are interested can find these on the ChemCreations website, www.cabb-chemcreations.com.
As we're just launching this offering, there aren't any completed case studies available yet. I can tell you, however, that we've already signed a number of client contracts for ChemCreations, so I'm sure we'll have some success stories to share the next time we meet.