Distributing Agchem Products to Thai Farmers — Getting Your Strategy Right
The Market
The Thai agchem market is worth about $450 million at the end-user level and it is split as follows: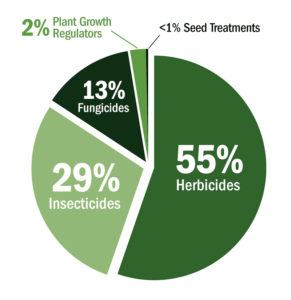 Over the past few years, an attempt has been made by the Department of Agriculture that regulates the agricultural chemical industry, to clear out sub-standard products arising from intense competition in the supply chain. A new set of registration rules was enacted. Toxicology studies and field efficacy trials of GLP standards are required to be submitted and all existing product registrations had to be re-registered.
Many distributors and product registrants have spent hundreds of thousands of dollars to re-register their portfolio of products under the new and more stringent guidelines. Their thoughts were that although it would cost them dearly, it would be worthwhile as this exercise would weed out the weaker and smaller players that do not have the funds to invest in re-registrations. Unfortunately, this exercise did not have the intended effect as many small players are still around today. Some who have invested in the re-registrations have duplicated their new registrations and supply products under different brand names to the smaller players.
The Thai agchem market is one where both small and large distributors and suppliers have a part to play and have their own distinct channels to the farmers.
The Supply Chain

The typical supply chain in Thailand is one in which importers who are registration holders import either technical-grade products or fully-formulated ones and then supply them to dealers and sub-dealers spread throughout the country. Farmers typically buy from these dealers and sub-dealers.
In forming your market entry strategy, it is important to understand that there are two quite distinct routes available to channel your products to the farmers. The dealerships generally fall into two distinct groups, the large and top-tier ones and the smaller, second-tier ones. They are, in turn, supplied by top-tier suppliers and second-tier players respectively.
The top-tier suppliers are the majors such as Bayer, Syngenta, Dow, BASF, and DuPont, along with a few strong and reputable home-grown suppliers such as Sotus International, Erawan, Inter-Crop, Pato, and Thep Watana. These tend to supply to the top-tier dealerships, which cater to the more affluent and sophisticated farmers who grow crops of higher-value such as tropical fruit for the export market.

The second-tier and smaller suppliers sell their products to the second-tier dealerships and sub-dealerships:
Because the top-tier dealerships build up and maintain their own reputation in the eyes of their more affluent and sophisticated farmers who do not take any risks in using sub-standard products, their doors tend to be closed to the second-tier importers-distributors and registration holders.
In light of the above situation, if you have products meant to be targeted at the more affluent and sophisticated farmers, it is important to choose the correct distributors who have access to the top-tier dealerships. Having said that, it is not easy to find room or gaps in the product portfolio of these top-tier distributors in a very competitive and over-supplied and over-serviced markets.
Farmer cooperatives play a small role in supplying agchem products to members. They typically get their supplies from second-tier suppliers and importers.
A Profile of the Dealerships

 Farmer cooperative:
Serves localized farmers at district levels
Provides loans (maximum Baht 50,000) to members of good financial standing
Deals in agricultural inputs as well; prices are comparable to dealerships
Reports to Department of Agriculture Extension & Cooperatives under the Ministry of Agriculture
Conducts technical meetings in conjunction with suppliers for members
 Second-tier dealership:
Deals with mostly local Thai suppliers
Annual sales turnover of approximately Baht 50 million and below
Serves less affluent farmers growing rice and vegetables
In-house marketing and promotion is generally not done
Farmers show up and pick up what they buy; limited deliveries to farms
 Small-medium first-tier dealership:
Deals with both reputable local Thai suppliers as well as the majors
Annual sales turnover of Baht 50-100 million
Generally single outlet operations
Serves quite affluent farmers growing vegetables and some fruit for the local markets
In-house marketing and promotion is done at farmer level, e.g. local concerts and lucky draws
Some deliveries are made to the larger accounts
Large first-tier dealership:
Deals with the top-tier local suppliers as well as all the majors
Annual sales turnover of Baht 100 million and above
Generally operates more than one outlet
Serves the most affluent farmers growing very high-value fruit crops such as durians, mangoes, rambutans, mangosteens, longkong, lime for local markets and for exports
Shop-floor and warehousing is tidy and well-organized
Merchandising is very evident. Have staff capable of handling farmers' queries
In-house marketing and promotion is done at farmer level, e.g. holding local concerts and lucky draws
Key suppliers often have agronomists stationed in these outlets to do direct promotion to farmers and answering farmers' questions
High level of deliveries made to the large farms they service
Sub-dealership:
Deals with lower-tier local distributors and sub-distributes for first-tier dealerships. Generally, no accounts with the majors as well as the first-tier local suppliers
Annual sales turnover of under Baht 25 million
Single-outlet operators
Serves smaller farmers and farmers who are very close geographically
Farmers usually show up on motorbikes or in pickup trucks to take goods to their farms
Conclusions
Getting your products to Thai farmers is not merely a matter of getting them registered and finding a distributor. It is important to understand the Thai agchem market sectors and determine which crop sectors are to be targeted.  Finally, and most importantly, find and appoint the right distributor which has access to the right dealers serving the targeted farmers. In this over-supplied and over-serviced market, convincing the right distributors to carry your product will always be a challenge. Nevertheless, adopting the right distribution strategy will ensure having market access that leads to successful marketing of your products to the Thai farmers.
CS Liew founded Pacific Agriscience Pte Ltd in December 1998 in Singapore. Prior to that CS gained over 20 years of international working experience in the crop protection and crop nutrition business working for American Cyanamid, Ciba-Geigy, Uniroyal and Nufarm. His 20-year corporate life was enriched by his hands-on involvement in Market Research, Product and Sales Development, Joint Venture Management and Acquisitions. He can be reached at [email protected].