CAC Crop Protection Show Continues to Expand
China's agrichemical industry continues to deal with strict environmental regulations, which have impacted sourcing around the world. CAC 2018 gives buyers an opportunity to talk to the largest concentration of suppliers in the world. AgriBusiness Global talked with organizer CCPIT CHEM Vice Chairman Ma Chunyan about what attendees can expect.
Q How will this show compare to last year's show in terms of exhibitors and attendees?
The 19th China International Agrochemical & Crop Protection Exhibition (CAC2018) will be held in Shanghai New International Exhibition Centre (SNIEC) on 7-9 March 2018. CAC2018 will expand its space covering six full halls with over 73,000 square meters, represented by over 1,300 exhibiting companies from 30 countries and regions including Australia, Brazil, Chile, China, Germany, Hong Kong, India, Ireland, Israel, Italy, Malaysia, Singapore, Spain, Taiwan, Thailand, UAE, United States, UK, Vietnam, and more. CAC2018 will have country pavilions from India and Korea exhibiting in agrochemical and equipment zones with larger space. CAC2018 expects a number of buyer delegations from Bangladesh, India, Pakistan, Thailand, Ukraine, and Vietnam, etc. Specialized product zones are planned and will include pesticide, biopesticide and biocontrol technology, fertilizer, agrochemical, and crop protection equipment, an overseas pavilion, country pavilions (India and Korea), new product and technology release, and 6th CAC Award Display Area.
Q What differences can visitors see at this show compared with previous years?CAC exhibition gathers most major Chinese pesticide manufacturers and trading companies, with extensive product profiles, and high industry participation. At CAC2018, visitors will see more varieties of new agrochemical products; more international exhibiting companies; and the fast growing agrochemical and crop protection equipment sector. CAC is the platform to meet global industry players, to see world supply trend, and to learn cutting-edge industry policies and market dynamics.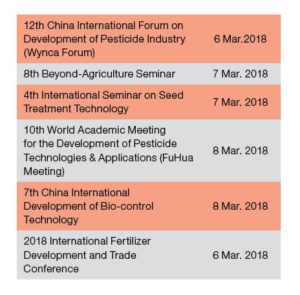 Q What is the highlight of the conference, and what can you tell us about the speakers?
China International Agrochemical Conference Week 2018 (CACW) will be held from 6-8 March, 2018, which includes the following six sessions.
CACW2018 will merge global wisdom and create an information feast. Nearly 100 speakers in pesticide, fertilizer, and seed industry including government officials, industry experts, scholars, and entrepreneurs will be invited from China, the United States, Canada, Germany, Switzerland, the United Kingdom, India, Philippines, Southeast Asia, South America, Africa and other countries and regions. Topics include the direction of global agrochemical industry development, regional administrative regulations, product supply and demand changes, new market potential, new areas for pesticide application, agricultural pest resistance and management, the establishment and management of the pesticide industry system under the new Regulations on Pesticide Administration of China, new progress and requirements of registration management, the supply-side reform of the domestic agrochemical industry under the new policies, the international trade development of global fertilizers and other issues. Speakers will offer different perspectives on policy, management, supply, demand and solutions, and analyze the development direction of the global agrochemical industry in the era of post M&A and that of China's pesticide industry under the new policies; explain in detail how to realize linkage between the supply side and demand side and achieve sustainable development of the industry and enterprises; discuss how to cope with the increasingly severe problem of pesticide resistance; as well as discuss the industrial topics among others.
Q Why is it important for people in the industry to attend this show?
After years of development, CAC has become world largest agrochemical exhibition. Integrating new product display, technical exchange and trade talks together, CAC serves as world largest one-stop platform with the most active transactions for agrochemical trade, exchange, and cooperation, involved in: Pesticides & Biological Pesticides; Fertilizer & New Fertilizers; Manufacturing, Packaging & Crop Protection Equipments, Logistics; Beyond Agriculture; Seed; and GLP Labs, consultancy organizations, and supportive services
CAC2018 will make full use of internet application in exhibition, open exhibitor online login for profile submission, visitor online pre-registration, CAC bilingual mobile site, WeChat visitor pre-registration, CAC APP, CACW online registration and online vote for 6th CAC Award. These will enhance exhibiting efficiency, visiting convenience, and delegates diversified registration, and promote the offline and online interaction for exhibitors and visitors.
Contact Dan: [email protected]