Global Crop Protection Market: A Look Back at 2018
Looking back at the global crop protection market in 2018, one key thought that comes to mind is that it remained positive despite challenging times. Given that we are now well into 2019 — with some Q1 2019 results already out; some positive, some not — a review of 2018 could be considered as dated, but there remains important lessons to be learned, if for no other reason than to better anticipate the future.
Let's start with the global figures.
Going back a few years, we reported on a U.S. $60.5 billion crop protection market for harvest year 2014 as measured at ex-company level and using average-year exchange rates throughout. At close to a 6% increase over the previous year, it was a good result, especially when considering the global economic environment at that time. By 2015, after what can be best described as a very tough year, the market declined by 9.8% to U.S. $54.6 billion in nominal terms. The year 2015 also marked the end of what had been a five-year period of year-on-year growth. As a continuation of that 2015 downward trend, the global crop protection market in 2016 declined by another 2.7% to U.S. $53.1 billion.
In 2017 that decline ended, as the market improved by a little short of 2 percentage points, putting the global crop protection market in 2017 at U.S. $54.15 billion. The year 2018 started very positively, particularly in Latin America, only to be challenged by what can best be considered as a series of partially predictable events. In the end the 2018 crop protection market performed better than many had feared, posting a positive result of 2.03%. Although positive, this very modest improvement in 2018 over 2017 meant that once again any celebrations were put on hold.
When looking at the regions in the chart below, it is clear that considerable variation existed by region. It raises questions, such as, "What market conditions prevailed in Asia such that the region as a whole increased by 5%, whereas Europe registered a decline, albeit a very modest one?" Looking at it another way, "What challenges beset certain regions, such that the final market development in 2018 was not as had first been envisaged at the start of the season?"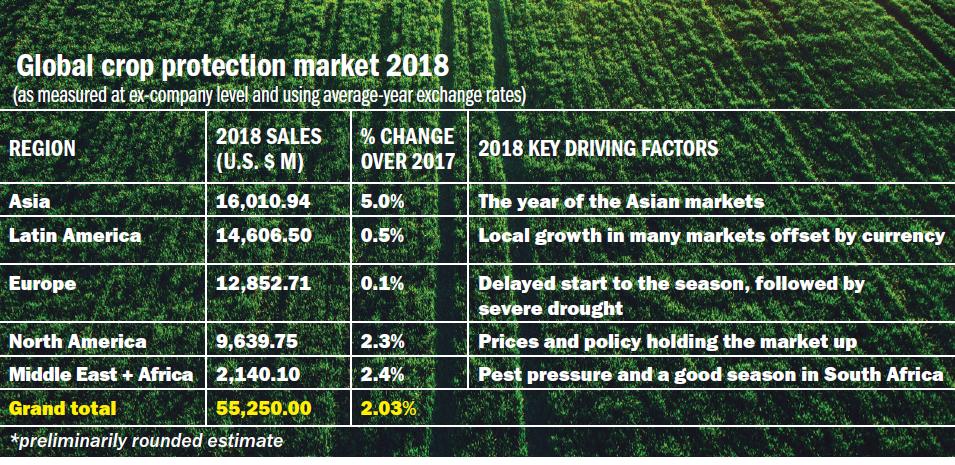 Europe was especially challenged in 2018, when a delayed season was followed by an unprecedented drought, which reduced the growth by close to double digits in markets such as France, Germany, and the Baltic states. Worst hit were the insecticide and fungicide sectors. Then, as if the drought were not enough, the EU proportion of the European market suffered once again as a result of over-regulation. For instance, the banning of all five neonicotinoid insecticides in France, as well as stricter implementation of the Ecophyto II plan, had negative impacts. Partially predictable, yes, in that, even as early as late 2017, there were many potential drought indicators, such as the positioning of the jet stream and lingering pattern of the 2017-18 La Niña. The strengthening of the Green Movement in 2018 in the EU — confirmed by the results of the 2019 European Parliament Elections — was also a clear indication of an ever-stricter EU pesticide regulation and re-regulation policy.
Devaluation of Brazilian Real in 2018
The challenges in Latin America were entirely different and, in a word, can be summed up as political, with no fewer than five general elections on the continent in 2018. One of those was the election in Brazil in October. Given that Brazil accounts for some 60% of the Latin American crop protection market, any impact here is significant to the region as a whole. In general, politics and policy in the run-up to the general elections tend to favor agriculture and, in turn, crop protection markets.
However, positive agricultural policy aside, uncertainty over political outcome often also generates significant currency volatility, as was the case in Brazil in 2018. Between January and December 2018, the Brazilian Real depreciated against the U.S. dollar by an average of 13%. The difference was most significant in August/September, one of the key buying periods for fungicide crop protection products. Consequently, although the market performed well enough in local currency, this was potentially wiped out with unfortunate sell timing on currency conversion. Partially predictable, yes, in that the currency movement markings were clear in March even if the eventual outcome of the Brazilian elections was not.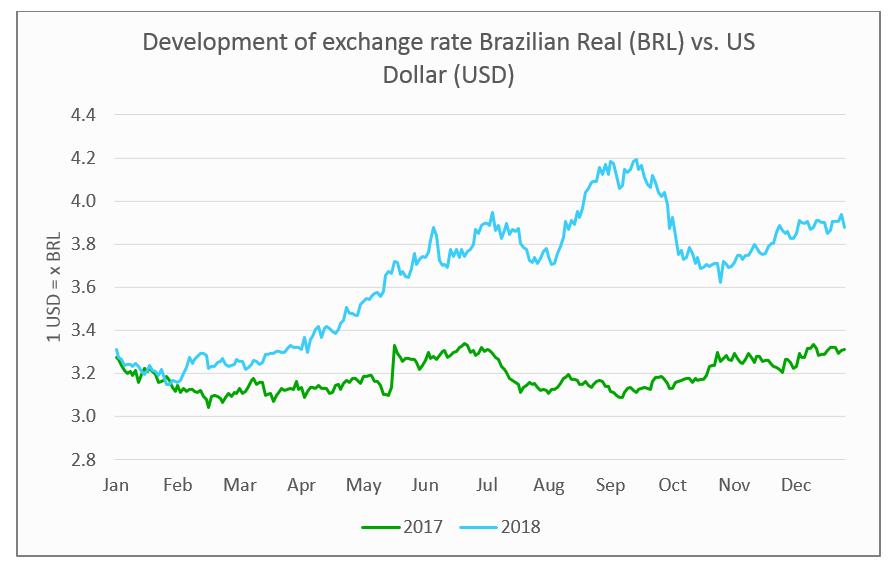 Asia was also challenged, with the most striking example being Australia, which suffered from one of the hottest and driest years on record, with the market down close to 10%. Despite this, the Asian region overall performed positively. Two of the top three markets, China and India, performed strongly — China, on the back of crop protection product price rises under the "blue sky policy" (again entirely predictable), and India, the result of what was generally considered a good monsoon season that was reasonably well distributed and one that arrived 17 days earlier than usual. Predicting monsoon quality is far from an exact science, but it is of note that Skymet Weather Services and the India Meteorological Department expect monsoons to be near normal in 2019, which, as a prediction, is helpful in understanding how the 2019 Indian crop protection market might develop.
The two remaining regions, North America and Middle East + Africa, both performed in line with the overall global average at plus-2.3% and plus-2.4%, respectively. For North America, the impact on agricultural commodity prices of the 6 July 2018 imposition of U.S. tariffs on Chinese goods became apparent almost immediately, and a similar downturn in the crop protection market was only averted with the trade mitigation payments to U.S. farmers of some U.S. $12 billion. Trade mitigation payments for 2019 have also been announced, and this, in conjunction with the estimated (at time of writing) 10% and 5% preventive planting of maize and soybean areas, respectively, has the potential to also boost commodity prices even in the absence of Chinese buyers.
Clearly this story still has some ways to play out in 2019, with, unfortunately, somewhat of an unpredictable outcome. The region of Middle East + Africa performed well and better than in a normal year, in part due to the strength of the South African market but also due to additional pest pressure from infestations of fall armyworm. Predictably this will continue in 2019, but of more significance is how the spread of this pest into the Asian region, particularly China and India, will increase Asian insecticide markets.
As ever, summing up the key drivers of this now U.S. $55 billion industry is challenging. One element of this challenge is understanding the shifting dynamics of several hundred companies, all with different strategies. Another is getting to grips with the outside influences of policy and politics; policy-driven "trade wars" and the general "greening of politics," to name just two.
The weather always adds a largely unpredictable element, case in point being the U.S. spring floods that significantly delayed planting in the corn belt in 2019. If you add to that the complexity and variability of close to 100 countries with pesticide sales in excess of U.S. $50 million, close to 1,000 different chemical active ingredients, and at last count about 10,000 unique brands on a global basis, then this should come as no surprise.
At the AgriBusiness GlobalSM Trade Summit 30 July to 1 August in Atlantic City, NJ, United States, we will consolidate those key drivers into those that are either industry-, market-, political-, regulatory-, or technology-related and develop the discussions above, with a focus on the 2018 crop protection market, the ongoing 2019 crop protection market, and the outlook for the next five years.