5 Compelling Reasons To Use The Sourcing Network's New Live Market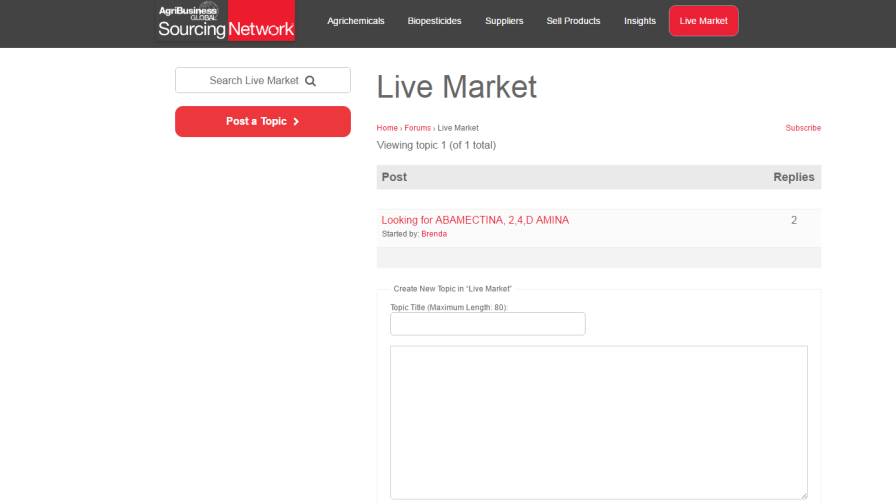 Using the Agribusiness Global Sourcing Network has just gotten easier with the launch of the new Live Market. Here are five compelling reasons why this online forum will enhance your experience on the Sourcing Network:
Great tool for buyers and sellers. By using the Live Market, buyers can find new business partners without all the hassle. They can post a request for products they are looking for, list critical needs from suppliers, request quotes, and much more. Suppliers will also find value in using the new feature. Need a distribution partner in Egypt? Use the Live Market to help you find one. Suppliers can also post their new product launches, special deals, and more. Using the Live Market is a great way for suppliers to identify new clients and keep in front of buyers on the Sourcing Network.
Track sourcing activity. In addition to posting to the Live Market, users can view what other Sourcing Network members are looking for on the Live Market, and reply directly to someone's post. Users can subscribe to receive instant notifications when anyone posts a message. Users can also subscribe to specific posts — and only get notified when someone replies to that post.
24/7 access. If you subscribe to receive alerts, you will be notified at the exact moment someone posts or replies to a post — keeping you up-to-date 24/7.
Stay up-to-date on the crop protection market. Live Market users can see what's going on in the global crop protection industry. What products are companies in need of and where? Who is active in identifying new business partnerships right now? Using the Live Market will give subscribers an edge in understanding the dynamics in what is a continually evolving global market place.
Added bonus for Trade Summit attendees. The Live Market is ideal for use at the Trade Summit. If you plan on attending this year's event in Orlando, Florida, simply check the box for "I am currently at the 2016 Trade Summit" to flag your posts as Trade Summit posts.
Visit the Sourcing Network to start using the Live Market today.