A Visit with ISK Biosciences, an Under-the-Radar R&D Giant
When Naoto Tani arrived to his new job at ISK Biosciences Corp. last July in Concord, Ohio outside of Cleveland, he thought he knew the United States. For the previous three years, he lived on 39th street in midtown Manhattan, where he headed Mitsui Chemical Americas Co. "That was part of America. But this," says a smiling Tani, pointing to the ground in reference to his new Midwestern suburban community, "is the real America."
But only the setting is slower-paced. The Japan native is rarely in one place for long, having just arrived back from Yuma, Arizona, the winter vegetable mecca, late the night before, visiting a potential partner. Tani's new role at ISK is a big one. He is charged with helping to double sales by around 2020 and boosting its ranking among the world's top-20 global agrichemical manufacturers.
ISK counted $455 million in agchem sales last year, but the figure is more than double that if counting revenue from its products sold by FMC and Syngenta, its two largest partners, says Tani. Unlike its larger competitors, the company develops all of its own chemistry in-house, formulates at its Memphis plant, manages registration, and then hands over right of sales to partners. It currently sources technical ingredients largely from Asia and the EU, and is actively looking to expand that base.
From ISK's humble headquarters — very much a reflection of its low profile in the industry since its founding in 1920 — he explains how the company's bold path in R&D will help achieve that goal.
To start, ISK has four new active ingredients launching into the marketplace from 2015 through this year, outdoing many multinationals several times its size.
A quick look at the newest products just rolled out (or about to roll out) from its pipeline:
• Isofetamid, a fungicide for use in grapes, soybeans, oilseed rape and more, received EPA registration in July 2015. The product, sold by Summit Agro USA under the name Kenja 200SC, is a 4th-generation SDHI that fends off Botrytris and powdery mildew in strawberries and grapes, as well as controls Sclerotinia spp. in lettuce and canola, and blossom blight (Monilinia spp.) in almonds. The AI also has a label for control of dollar spot (Sclerotinia homoeocarpa) for the professional turf management industry, where it is sold as Kabuto Fungicide SC by PBI-Gordon.
• Pyriofenone, a fungicide for use in grapes, small berries, and cucurbits, belongs to a new group of fungicides, the aryl phenyl ketones. EPA registration is expected this year, and is already registered in Europe to control powdery mildew (Erysiphe necator) on grapevine.
• Cyclaniliprole, an anthranilic diamide insecticide targeted for use in orchards, vegetables, and field crops, is also expected to receive EPA registration this year. The product represents a ISK's first forays into branding under the proposed name Harvanta. The AI brand name is Cyclpryn.
• Tolpyralate, a selective herbicide for corn, controls a wide range of broadleaf weeds and grasses. EPA registration is expected this year.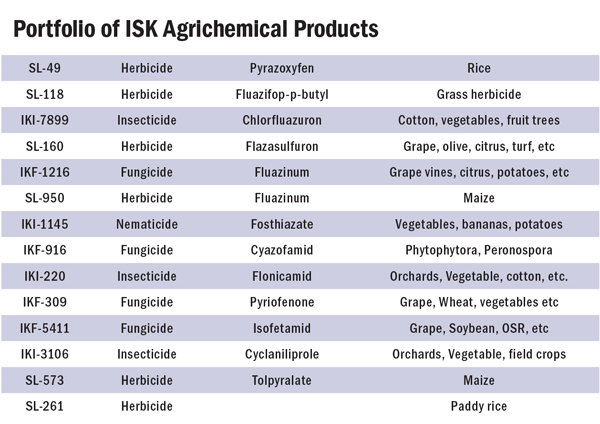 ISK eventually plans to register all of its new products to more markets in Central and Latin America.
ISK is able to churn out a wealth of AIs relative to its size on the strength of its more than 250 researchers, says Tani, who are based primarily at its Central Research Institute in Shiga Prefecture, Japan. The company also puts far more than 10% of revenue into R&D, though Tani declines to get into specifics.
"What makes us different from anyone else is the focus on research and development. The resources go there, because we don't have a sales and marketing arm – we farm that out to FMC, Syngenta, and Summit Agro USA," says Kasey Ingram, General Counsel and Chief Compliance Officer. "That's what sets us apart."
In another move to differentiate its position in the marketplace, the company is also looking to expand in branded products, says Tani. The first of these are the aforementioned Kenja and Harvanta, and depending on how well they perform, ISK will add more.
"These products will serve American agricultural growers very well, and ISK is working together with partners to bring these novel products to the grower," Tani says.