Global Distributors Seek More Biological Inputs
For the fifth year, AgriBusiness Global's annual State of the Industry Survey and special report has explored the growth of biological pesticides and biostimulants as they become a more crucial technology for growers and companies that supply inputs.
Through the years, global manufacturers and distributors alike have elevated the importance of biological products in their business strategies. Almost 90% of this year's respondents say they are seeing increased demand for biological products in 2016. These demand drivers vary from consumers, grocery retailers, farmers, and crop input retailers.
Looking at results from importers, wholesalers, and distributor companies, almost 49% of respondents counted biopesticides as part of their product mix, up from 40% a year ago and 34% in 2014. Biological stimulants also surged, with 36% selling them in the past year compared with 24% in the previous year.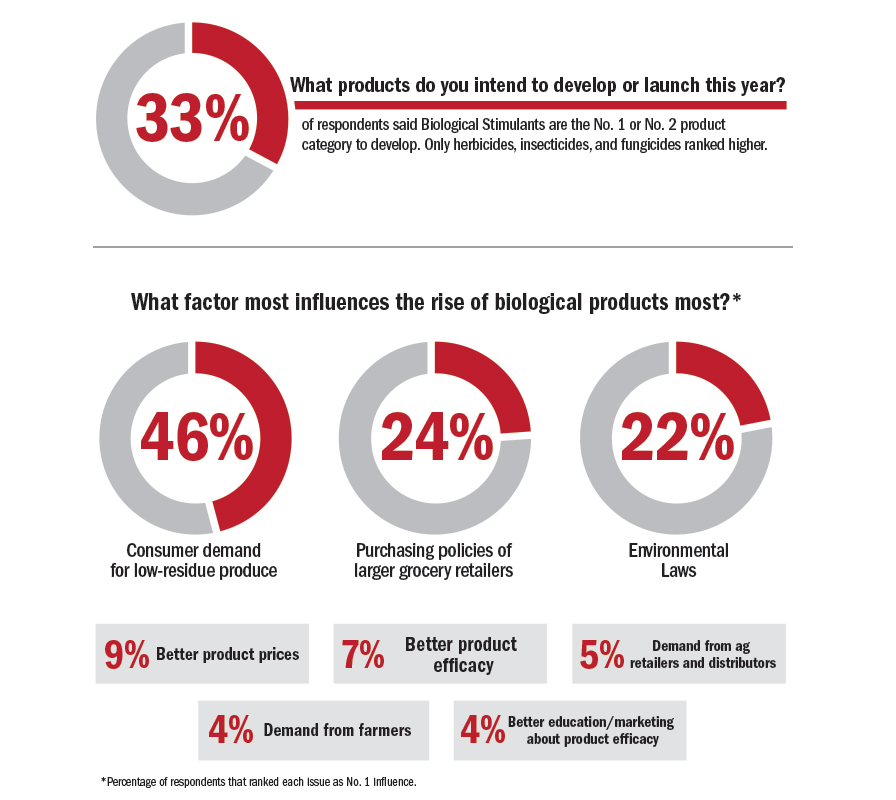 Source: AgriBusiness Global State of the Industry
Methodology & Demographics
AgriBusiness Global's annual State of the Industry Survey and special report offers readers a biographical snapshot of the health of the industry and the sentiment of the companies that operate in it.
The survey was designed by AgriBusiness Global editors and broadcast to our email subscriber base. Email reminders were sent during the four weeks the survey was open in May, and an incentive was offered to win a $100 gift card.
The survey was taken by 144 respondents in 46 countries, giving the survey a margin of error of ±8.09% with a 95% confidence level.
The survey was taken primarily by pesticide manufacturers, distributors and trading companies. Responding companies were 85% privately owned, 14% publicly traded and 1% government owned. About 39% of responding companies grossed less than $10 million in 2015; about 35% grossed between $10 million and $100 million, and about 27% grossed more than $100 million.
See more stories from our State of the Industry special report by searching "state of the industry".