AgriBusiness Global Parent Launches 'Sourcing Insider' Newsletter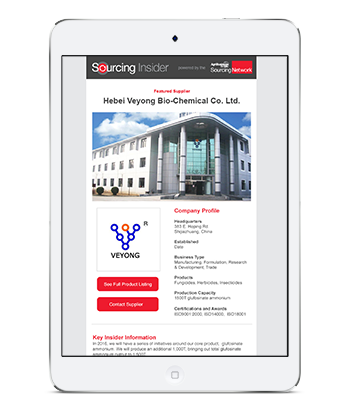 Meister Media Worldwide and its AgriBusiness Global brand announce the addition of Sourcing InsiderTM, a newsletter dedicated to providing global buyers and sellers of agribusiness products with the key information they need to build their businesses.
"The Sourcing Network truly is the year-round online form of the Trade Summit where people can find and communicate with new business partners," says Lauren Fitzgerald, Manager of Data Products at Meister Media Worldwide. "Sourcing Insider is the perfect value add to the Sourcing Network because it provides agribusiness professionals the opportunity to feature their businesses before, during and after the AgriBusiness Global Trade Summit event," Fitzgerald continued.
Sourcing Insider features your company's latest news, new business directions, and more, to 12,000+ agribusiness professionals and is the perfect way to get your audience's attention before and after the event. Contact Eric Davis, AgriBusiness Group Publisher, for more information.