China Pesticide Market: Biopesticides, Fungicides Highlight 47 New Products Launched in 2017
In 2017, there were 47 new pesticides registered or launched in China, including 13 fungicides, five insecticides / acaricides / nemacides, six herbicides/PGRs, and 23 biopesticides, according to "China Price Monitoring Monthly Report-Pesticides" published by Siembo.
Among the 13 fungicides, SDHI fungicides ranked first, including seven products (isopyrazam, pydiflumetofen, flurozolamide, benzovindiflupyr, fluxapyroxad, bixafen, isofetamid). Here is the market value of global SDHI fungicides 2009-2014: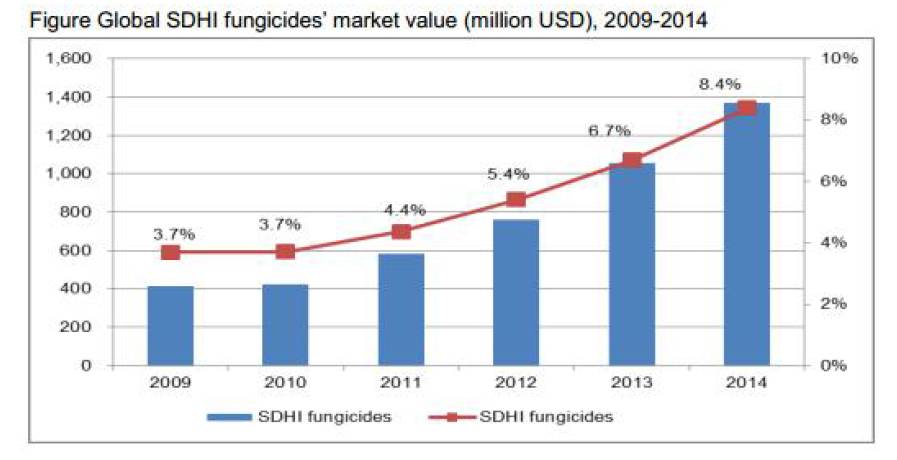 China is the largest generic pesticides producer in the world, producing four kinds of SDHI fungicides at present: boscalid, thifluzamide, carboxin and flutolanil. In addition, some SDHI fungicides will be off patent in the next decade, such as fluxapyroxad, bixafen, penflufen, sedaxane, benzovindiflupyr, etc. China's SDHI fungicides industry will have fast development in
the next decade.
Among the five insecticides/acaricides/nemacides, there were two nemacides launched (fluorinated sulfoxide
and tioxazafen), one bisamides insecticide (cyclaniliprole) and one nicotinic acetylcholine receptor agonist (sulfoxaflor).
Among the six herbicides/PGRs, there were three HPPD inhibitor herbicides (benzobicyclon, tolpyralate, and bicyclopyrone) and two aryl pyridine formic acid esters herbicides (florpyrauxifen-benzyl and halauxifen-methyl).
Twenty-three biopesticides and "others" occupied 49% of the new pesticides registered or launched globally in 2017. This included four bio-nemacides, five bio-insecticide and bio-acaricides, and 2 bio-fungicides.
For more information, visit Siembo.com.