Generic Competition Puts Pressure on Margins in Nicaragua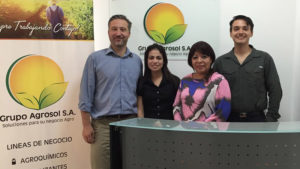 Grupo Agrosol S.A.'s Jens Schenck shares insight on the Central American crop protection market, including opportunities and challenges in Nicaragua.
Q: How is the Nicaraguan market this year? What about in comparison to other markets in Central America? What challenges are you facing?
Jens Schenck: After two years of severe droughts in Central America (El Niño phenomenon), climatically the region has come back to normal again. Also, the prices of crops like coffee, peanuts, sugar cane and rice have been favorable to the producers and exporters.
However, the agrochemicals market is facing a strong competition from regional companies who have established their distribution business as well as foreign trading companies who are causing a strong competition, especially in generic commodities and in specialty products where a lot of market value has been destroyed.
Q: Are there specific products or classes of products (herbicides, insecticides, fungicides) that are in short supply?
JS: In general, all products have been available by the different distributors, as there is no shortage in China or India in the main commodities. The only product where we faced difficulties in supply and rising prices was chlorothalonil.
Companies who have foreseen this situation and who have bought product in time were able to supply the bigger volumes required by the peanut market.
Q: Can you describe availability of credit? Is the risk with distributors or farmers?
JS: The main source of credits especially for medium and big sized farms is the credit granted by the distributors, however, due to difficult payment behavior, credits have been restricted and distributors are increasingly selecting customers.
Since many new players are entering the market who are offering products and credits to sell their products, the risk is shifting more to distributors.
Q: Are there any major crop shifts that are influencing inputs?
JS: No, there are no crop shifts in Nicaragua that are influencing inputs. The area of crops has been stable.
Q: What are some of the opportunities in the Central American markets you serve under the current business conditions?
JS: Low prices of agrochemicals and fertilizers on the one hand and favorable prices for the crops will Benefit the producers and motivate to increase areas of production.
With respect to Nicaragua due to low labor costs and factors like soil and weather conditions a shifting of Banana and Pineapple production is possible.
Q: What AIs or classes of products are showing the most price softness?
JS: Mainly commodities in all different classes, such as Glyphosate, 2.4 D, cypmermethrine, mancozeb.
Q: How do you expect the market/region to perform for the rest of 2016 and looking ahead to 2017?
JS: After 2 difficult years this year will end with good sales for most of the companies. The expectation for the next year is positive within all the whole region as far as climatic conditions and crop prices will be favorable.
Q: What else do you want to share about your company?
JS: Grupo Agrosol, located in Panama, represents international German trading companies like Jebsen & Jessen and Wittraco in Central America, the Caribbean and the Andean countries, with more than 10 years of experience in sales and marketing in these markets. Our portfolio comprehends mainly agrochemicals, fertilizers and also industrial chemicals.
Through our represented companies we are in the position to offer support in regulatory affairs, financing and logistics.