How Data and R&D Are Driving Consolidation
The Impact.
"Consolidation has a mixed impact on the ag industry. The downside is clear — two companies that merge $100-million R&D budgets never have a $200-million budget, as a key objective of consolidation is to gain efficiencies," Jim Budzynski, Managing Principal of MacroGain Partners, tells AgriBusiness Global.
His worry echoes those of just about everyone else: that consolidation will stifle innovation.
The Harvard Business Review backed that view in its recent research finding that antitrust authorities have been too lenient, at least when it comes to drug company mergers. "But what's surprising and troubling," HBR said, "is that our new evidence shows that the merging companies' competitors also spend less on R&D after the merger. Hence, industry competition and innovation become less dynamic overall."
Granted, the study looked at pharma companies — not agribusiness. Nonetheless, it is worth noting that R&D and patenting within the merged entity decline substantially after a merger, compared to the same activity in both companies beforehand. In addition, patenting and R&D expenditures of non-merging competitors also fell — by more than 20% — within four years after a merger, according to HBR.
Bayer spokesman Utz Klages tells AgriBusiness Global the combined R&D portfolio of Bayer and Monsanto would have "exceptional depth, reach, and great commercial potential. Both companies have attractive, complementary pipelines over short-, medium-, and long-term with potential for further incremental innovation to address key challenges in the ag space in a new way."
Bayer expects to reap $1.2 billion in cost savings through its purchase of Monsanto, and will likely reinvest some of those savings in R&D. The current CropScience R&D pipeline has a combined peak sales potential of more than €5 billion ($5.6 billion) with products to be launched from 2015 to 2020. Beyond 2020, the R&D organization is working with more than 20 R&D targets in chemical crop protection, six targets for biological crop protection and eight targets for traits. In addition, the breeding programs include nine field crop targets in late development and research and 27 vegetable targets.
First Things First.
All of this aside, word on the street is that it seems possible — maybe even likely — that not all of these deals will
get approved.
Syngenta-ChemChina and Bayer-Monsanto would control more than half of the crop chemicals market, according to 2015 data compiled by Bloomberg. Monsanto, and Dow-DuPont would control nearly 75% of the U.S. market for corn seeds and about 65% of the market for soybeans, according to 2015 data from consulting firm Verdant Partners.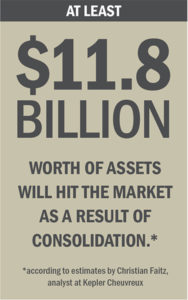 The European Union's antitrust regulator stopped the clock on its in-depth probe into the proposed merger of Dow Chemical and DuPont in early September because the companies failed to submit important information in a timely fashion. The suspension threw out the window the companies' plan to close the $130-billion deal by the end of this year.
Then, the U.S. Senate Judiciary Committee held a hearing on "Consolidation and Competition in the U.S. Seed and Agrochemical Industry." Sen. Charles Grassley of Iowa called the consolidation wave a "tsunami." He addressed concerns about the competitive advantages he says are likely to result from the Syngenta-ChemChina merger, including the Chinese regulatory process "favoring Syngenta's biotech traits over those developed by competing biotech companies."
At the hearing, Erik Fyrwald, CEO of Syngenta, contended that the deal is a strategic decision to enhance its ability to better supply U.S. farmers and farmers worldwide.
"ChemChina will provide Syngenta with greater capital to further its current industry-leading R&D programs, providing growers with the latest and most effective chemicals and seeds. Because ChemChina is not publicly traded, this transaction will allow Syngenta to focus more intensely on long-term R&D instead of having to focus on satisfying short-term investor expectations and demands. It will also give Syngenta better access to emerging markets," Fyrwald said.
Yet, according to Budzynski, it's clear that getting cross-border deals approved in an environment of growing global trade protectionism is fraught with political risk, and it is not only U.S. authorities that have to approve a merger.
As Andrew Hecht, a commodity trader, options expert, and analyst, wrote in a recent research article, there is one thing we can expect as low crop prices ripple throughout the agricultural sector. "It makes sense to create economies of scale in this industry these days as many suppliers of products to farmers may find it necessary to lower prices in the months ahead. Therefore, expect more consolidation in the industry."
The Opportunities.
Take a look at the overlap in portfolios of the M&A participants, and that's where the opportunities lie. Any areas where both merger partners have a significant presence will be where regulators focus. "Companies often proactively identify businesses they intend to divest in order to get the deal done," Budzynski says. The buyers will be any player not in the merging universe, which is today nine major players: Monsanto, Bayer, Dow, DuPont, Adama, ChemChina, Syngenta, Potash Corp. of Saskatchewan, and Agrium.
At least $11.8 billion worth of assets will hit the market as a result of consolidation, according to estimates by Christian Faitz, an analyst at Kepler Cheuvreux. BASF is poised to benefit "quite a bit" as one of the only strategic bidders in the market, Faitz said in a note to clients, which was obtained by Bloomberg. "BASF could, with little effort but a bit of pocket money, build out its own integrated franchise." Markus Heldt, head of BASF Crop Protection, said in a press briefing in September, "We actively seek to exploit the opportunities arising from the ongoing mergers in order to strengthen our presence and expand our offer."
Some of the interested parties also include smaller players like UPI. The company's North America lead, Vicente Gongora, said in a recent interview that the company sees opportunity in the consolidation, notably in the Midwest and with herbicides.
Likewise, Bill Lewis, Summit Agro USA Chief Executive, commented to AgriBusiness Global, "We're not going to look at (consolidation) negatively." Most of the opportunities emerging from consolidation will fall in the traditional chemistry realm, and when examining potential product acquisitions Summit Agro will look how the product meshes with its portfolio and how it fits in its distribution network. A fungicide will be a far more likely pick than say, glyphosate.
The Precision Ag Piece.
Seed and agrichemicals grab the headlines in the M&A flurry, but don't underestimate the up-and-comer: precision ag.
Mike Preiner, co-founder of Granular, the San Francisco farm management software and analytics provider, says that as ag market conditions have gotten a lot tighter, the big manufacturers that historically have enjoyed fat margins are now trying to figure out other sources of profit in this new reality. "This includes M&A activity, selling, and locking customers in through software, and bundled product and software experiences," he says.
Preiner is skeptical, though, that value-add services from input suppliers — specifically those that rely on software — will be the long-term state of the industry, primarily given sensitivities around data privacy, independence, and dedicated expertise.
At the company's Future of Farming Dialog 2016 event in Leverkusen, Germany, Liam Condon, head of the Bayer CropScience division, talked up the "tremendous potential" of digital farming. He went on to explain how satellites are able to transmit images of where stress is detected in a field to a tractor. That image is then translated to a treatment recommendation, whereupon a self-driving tractor, armed with GPS and sensor technology, will spray only the affected part of the field and prevent an outbreak to the entire field. "This isn't just a future vision — it's real and needs to be developed further."
Whether Monsanto's The Climate Corp. will be a centerpiece of the tentative new company is yet to be seen, but Dr. Sam Eathington, the firm's Chief Scientist, is confident digital ag has the power to transform agriculture the same way biotech has, by increasing productivity and sustainability.
When asked about the potential of precision ag reaching beyond fertilizer and seeding, Eathington tells AgriBusiness Global, "What we've heard from farmers is that they want all their data in one, centralized place. They want an integrated approach to make their farming operations more productive, efficient. and sustainable. The beauty of digital ag is it can reach every aspect of the farm — it's very exciting, and agchem can be next." The Climate FieldView Drive device, for example, is currently being beta-tested to connect into spraying equipment to help farmers monitor their pesticide applications. "And, in the future digital agriculture will be able to help ensure farmers are applying in the right areas and at the optimal times," he adds.
Eathington was unable to comment on how The Climate Corp. would (or would not) benefit from the Bayer deal, but he did say the company is always looking for new collaboration opportunities that can advance innovation. "It's for this reason that we recently extended our platform infrastructure to other third-party ag innovators, enabling them to contribute to and build upon our platform. Ultimately, we're helping simplify the complex digital ag landscape for farmers and making it easier for other ag innovators to bring valuable new technologies to farmers faster."