Indogulf Cropsciences Awarded Oversea Market Expansion Award 2018 in China
Indogulf Cropsciences Ltd., a leading manufacturer and exporter of agrichemicals, crop nutrients, technical, and formulations was awarded the prestigious "Overseas Market Expansion Award 2018" by the Organizing Committee of 20th China International Agrochemical & Crop Protection Exhibition during 7 CAC Awards and CAC 20th Anniversary Awards Ceremony held in Shanghai on 4 March 2019. Indogulf received this award for second consecutive year.
Indogulf Cropsciences is providing high quality and environment friendly produ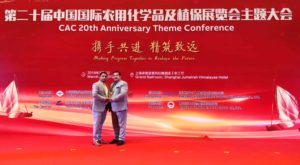 cts and excellent services to farmers around the world to enhance their living standards. With access to the latest technology and highly trained and experienced human resources, Indogulf has become an integrated agrichemical company with expertise in R&D, technical manufacturing, and export. The company caters to its distribution network that covers the domestic market and export to Asia, Africa, Latin America, and Middle East.
Today, Indogulf Cropsciences owns four production bases that include one technical synthesis plant and three formulation plants. Each unit operates under the strict international quality standards and has been certified under ISO 9001 for Quality Assurance and ISO 14001 for Environment Pollution Control Norms, which is the international standard for an Effective Environmental Management system (EMS), and both are global management systems for safety and environment standards.
Recently the company has also joined with the Republic of Togo in Central Africa to help enhance the productivity and fertility of the country's soils.
Indogulf Cropsciences is a preferred brand among progressive farmers. Growth drivers are the intensive marketing network penetrating even the interiors of India, increased farm income, enhanced awareness about the cost-benefit ratio of agrichemicals, highly diverse product range with solution for almost all problems in all crops and innovative marketing strategies. The company keeps adding new products every year and continuously on the lookout to bring the latest technology to Indian farmers. For more information Visit: www.groupindogulf.com