State of the Industry 2016: The Mantra: Adapt and Innovate in Difficult Times
Editor's Note on Methodology and Demographics: AgriBusiness Global's annual State of the Industry Survey and special report offers readers a biographical snapshot of the health of the industry and the sentiment of the companies that operate in it.
The survey was designed by AgriBusiness Global editors and broadcast to our email subscriber base. Email reminders were sent during the four weeks the survey was open in May, and an incentive was offered to win a $100 gift card.
The survey was taken by 144 respondents in 46 countries, giving the survey a margin of error of ±8.09% with a 95% confidence level.
The survey was taken primarily by pesticide manufacturers, distributors and trading companies (Chart A).
Responding companies were 85% privately owned, 14% publicly traded and 1% government owned. About 39% of responding companies grossed less than $10 million in 2015; about 35% grossed between $10 million and $100 million, and about 27% grossed more than $100 million.
Interestingly, 25% of companies say they do not hold registrations for products in any countries (Chart C); 35% have registrations in five or fewer countries, and just 6% hold registrations in more than 100 countries.

With rapid consolidation throwing new unknowns into the mix, our 2016 State of the Industry results reflect how exceptionally tough this agribusiness environment has become. Nevertheless, a sense of perseverance and the recognition that this industry is no stranger to market instability.
"When does the downturn end? While the causes are certainly different and we started a lot healthier, I view this bubble as potentially larger than the 1980s bubble," Dr. Jim Budzynski, Managing Principal, MacroGain Partners, tells AgriBusiness Global. "That one took six to seven years to turn, so expect a lot more to happen between now and 2020. Oh, and fasten your seat belt."
In the wake of two proposed mega mergers in the agrichemical and seed industry in the past six months, with the possibility of a third (Monsanto and Bayer) approaching, 13% of respondents said acquiring another company was either a strong possibility or an almost certainty in 2016, compared with 10% in 2015. Conversely, almost 12% said it was a strong possibility or almost certain that they would sell all or part of their company in 2016. That is up a combined 7% who said the same just a year ago.
Respondents from companies generating revenues at the high end of the spectrum also trended up in 2016 from prior years: 15% of respondents said their respective company made more than $750 million in sales in the previous year compared with 10% a year ago and 8%
in 2014.
Respondents from companies with more than 2,000 employees also rose to 13% from 7% two years ago.
"Consolidation is key for small and medium companies who want to grow quickly. Not only does it provide new products and customers but it gives access to registrations, which are key to any agrichemical business strategy," said one manufacturer and formulator in India.
Another Indian manufacturer added that consolidation will open up opportunities for mid-size companies that are strong in manufacturing and have global market access and market knowledge.
Views on how the merger trend will change the industry ran the gamut. In the words of one Spanish manufacturer and formulator: "We may be able to survive."
One distributor and importer/exporter in Pakistan said consolidation will negatively affect the industry, "but positively (impact) our business, since it creates a vacuum in the marketplace and creates product demand and opportunity to increase revenue."
Echoing that sentiment was a U.S. manufacturer and formulator who commented, "We will benefit from the paralysis of the competition and the availability of experienced new employees cast off by the competition."
Another distributor and importer/exporter in Romania observed, "It is still unforeseen how the new big entities will work with distributors. The industry will change towards cleaner (active ingredients). The financial managers will play a very important role looking to recover their investments very fast, while paying low attention to environmental/economic and social problems."
Subdued Outlook
Survey takers had no qualms about expressing a mediocre outlook for the worldwide economy. Almost 40% see the global economy as "barely better" this year, while more believe it will be "much worse" than "much better" (5% vs. 3%, respectively).
A point of concern is that almost 31% reported they did not meet budget in the first quarter. That is up from 27% last year. Just over half – 51% – met budget, while 18% exceeded budget.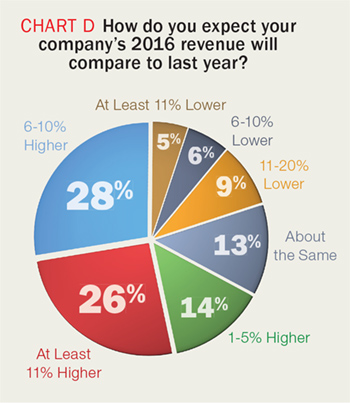 Despite a vast majority projecting higher product volumes and revenues for 2016, almost 31% cut their profit forecasts for the rest of this year.
A majority blamed weather – drought, El Niño and poor monsoons – but respondents cited a plethora of factors, including price competition, exchange rates, crop prices, political instability, and high inventory levels. Low oil prices affecting purchasing power particularly in Africa and South America was mentioned by several.
Symptomatic of the need for extended payment terms in Africa and Latin America is a trend toward purchasing with longer lead times. Seventy percent reported buying with at least three months of lead time in 2016, compared with 66% last year, while another 19% said they buy with at least six months of lead time, up from 15% a year earlier.
In another concerning trend of note, counterfeit products ranked sharply higher as a threat to businesses in 2016. A hefty 30% of respondents said counterfeits were their No. 1 source of competition, ranking only behind multinational companies with 34%. That is double that of the previous two years.
More companies are choosing not to register products: In 2016, almost 23% said they don't register products at all, up from 16% and 14% in 2015 and 2014, respectively. Yet of the companies that do register, they are going bigger. Respondents reporting they hold product registrations in more than 100 countries edged up to 6% this year – twice that of last year and up from 0.9% two years ago.
Looking at product segment trends, it should come as no shock that biologicals are being incorporated into portfolios more now than ever. Almost 49% of respondents counted biopesticides as part of their product mix, up from 40% a year ago and 34% in 2014. Biological stimulants also surged, with 36% selling them in the past year compared with 24% in the previous year.
A Chinese manufacturer of biopesticides, biostimulants, microbials, and pheromones reported the company raised its forecast for the rest of 2016, after seeing higher than expected sales in the first quarter, boosted by "continued concern over food safety."
Likely a result of drought pervading many regions around the globe, compounded by lower grain prices, insecticides shot past herbicides as the dominant feature of company portfolios in 2016. Almost 69% sold herbicides in the past year down from 80% in 2015, compared with 75% selling insecticides.
Likewise, fungicides fell to 71% versus 81% in the prior year.
New Products, New Regions on the Mind
Agchem businesses continue their push to expand to other regions, according to the survey: Nearly 15% of respondents said they operate in more than 50 countries, compared with 11% operating in as many a year earlier and just 6% in 2014.
Commitment to new product development in the coming year shows no signs of abating, with roughly equal numbers of companies projecting they plan to add offerings as in recent years.
As drought ripples across Argentina and other critical ag regions, herbicides and fungicides are figuring less prominently into intended new product launches. About 32% of respondents ranked herbicides as the No. 1 key new product they planned to roll out this year, down from 42% in 2015. Those who ranked insecticides as their top product launch, by contrast, edged up to 18% from 15% last year.
Biologicals saw the biggest jump. Almost 15% of respondents said this product area was most important in terms of intended new launches in the coming year, more than double that of the prior two years.
Appetite for biologicals just keeps growing, driven most heavily by consumer demand for low-pesticide produce, purchasing policies for large grocers and supermarkets, and environmental laws. About 88% expect increased demand for the product segment this year, up from 82% in 2015 and 77% in 2014.

Can we expect the wider agchem market to gain momentum anytime soon?
With respect to the U.S., Budzynski says, farm incomes as a proportion of cash rent are projected to claw back to 26% from just 14% last year, but are still dramatically below prior years (e.g., 85% in 2014.) These drops in farm income haven't been seen since the 1980s.
"The implications of this for all of us in ag are very clear," he says. "Land prices will come down. Cash rents will come down.
Inputs costs will come down. Equipment prices will come down. The speed of this decline varies by category. Discretionary equipment demand is impacted the earliest, and nutrients you can 'mine' like potash and phosphates are next. Land prices and cash rents are slowest to adjust, but eventually they will."
The good news: Post-patent suppliers will have an opportunity to gain share as distressed farmers get more aggressive in cutting input costs, Budzynski says. But, be prepared for the multiple hybrid companies forming to deliver aggressive package deals of chemicals and seeds to address both weed and pest resistance as well as the need to hit lower price points.
"Share of wallet will get a lot more focus, and creative chemical package mixes – harkening back to the 1980s – will enjoy a resurgence as 'synergy equals savings' becomes the operational mantra," Budzynski says, adding, "Those able to incorporate biologicals into their program will also have an advantage as the organic/non-GMO trend continues to gain consumer traction, unfortunately regardless of whether it's accurate or just a popular narrative."