L-Glufosinate Acquistion Positions BASF for Premium Portfolio With More Market Share
When BASF acquired proprietary technology for L-glufosinate ammonium from AgriMetis, Glu-L, it gave the company a two-step process for the production of substantially pure L-glufosinate. Today's glufosinate products consist of the active L-glufosinate ammonium and the inactive D-glufosinate ammonium. The latter is converted into active L-glufosinate ammonium by the new technology. This makes the new product significantly more efficient.
This novel enzymatic process substantially increases the proportion of the active L-glufosinate isomer in the mixture with D-glufosinate, according to the AgriMetis website.
This acquisition gives us some insight into BASF's glufosinate strategy. To combat herbicide resistance in weeds, global farmers need more efficient way to replace paraquat, glyphosate, and 2,4-D in the future. Farmers gravitated to these low-cost generic molecules for decades now. But with paraquat banned in China and Brazil and additional regulatory scrutiny on glyphosate and 2,4-D, the market needs efficient and effective non-selective herbicides with the ability to control resistant weeds.
BASF strengthens its portfolio of selective herbicides and also burndown herbicides for GMO seed programs. After BASF acquired Basta (glufosinate) from Bayer Crop Science in 2017, they are working to expand its programs that use glufosinate-resistant GMO seeds. Basta is still a good solution for global farmers, but there are some questions about whether the cost of the acquisition is paying off for BASF.
In August 2018, BASF launched Credenz soybean with LibertyLink GT27, the first soybean seed technology with herbicide-tolerant stacked traits. It allows growers to apply both Liberty herbicide (glufosinate ammonium) and glyphosate over the top of soybeans for post-emergence control of broadleaf and grass weeds.
Given the depth of BASF's portfolio, we can assume that BASF is targeting to launch novel products based on L-glufosinate ammonium active ingredient. The active will drives changes in the global glufosinate market for the next 10 years.
In 2020, the total glufosinate demand will reach about 47,000 Mt and the supply capacity will be up to 36,000 Mt. According to Kleffmann (now Kynetec), in 2018, the total market of glufosinate was up to $750 million with CAGR 6.16%. The high growth and market demand of glufosinate means that China manufacturers are investing in capacity. The total glufosinate registrations in ICAMA are 63 official registrations, and more formulation registrations are on the way as well. China has the most producers of glufosinate in the world (Figure 1).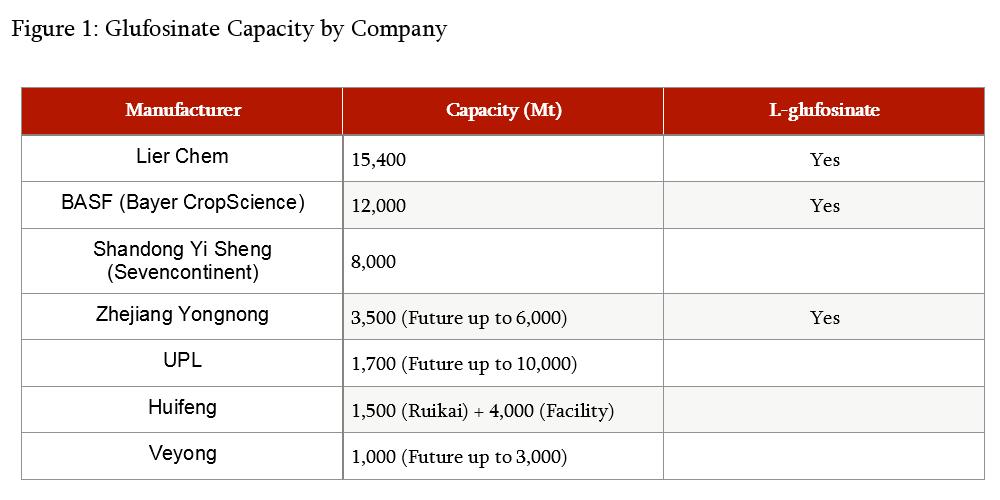 Before 2016, the glufosinate active ingredient price was over 46 USD /Kg. But Bayer Crop Science started to decrease price in late 2015. According to our China Agrochemical Price Index, the glufosinate AI price was decreasing from $23 to around $14 in 2019. Recently, the price of glufosinate AI is increasing due to the limitation of supply (Figure 2).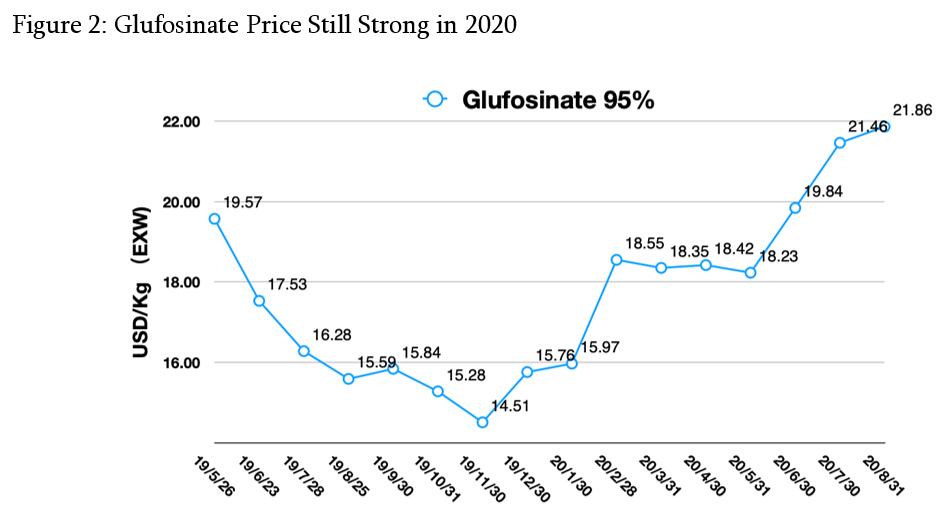 From a marketing point of view, BASF will drive the glufosinate global market after its L-glufosinate product is commercialized. BASF could have more advantages to drive the profit margin with higher performance by novel products. Glu-L will deliver an improved, highly concentrated weed control product reducing the needed amount of the product by up to 50%. Farmers could choose the BASF portfolio more than other glufosinate brands. BASF's new tool to fight weed resistance provides the company the opportunity to create better market penetration with its companion GMO seeds, create premium products with price points to match, and bolster stewardship on the farm with lower-use products.
And BASF could use the Basta or Liberty brands to compete with other competitors. Glu-L will provide more choice for BASF marketing team to compete with other glufosinate brands supported by producers from China or India (Figure 3).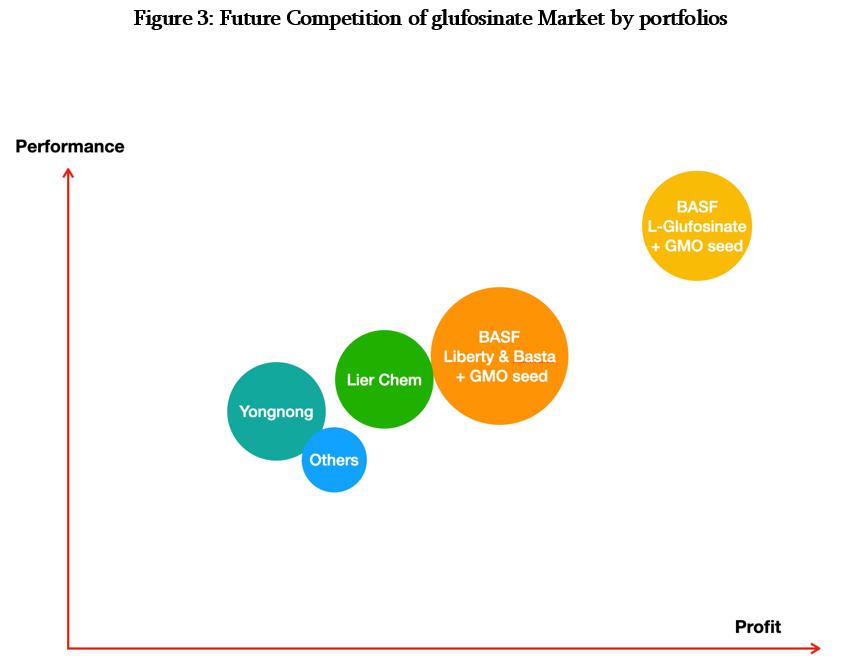 All in all, the competition will be a good thing for farmers who have more options. The glufosinate market will also grow together with novel portfolios launch into the market. The promotion of glufosinate could also bring beneficiary on new technology development to decrease the cost of application glufosinate, and innovations like this extends the life and value of glufosinate active ingredient.