SLIDESHOW: India and The Big Shift, Part 1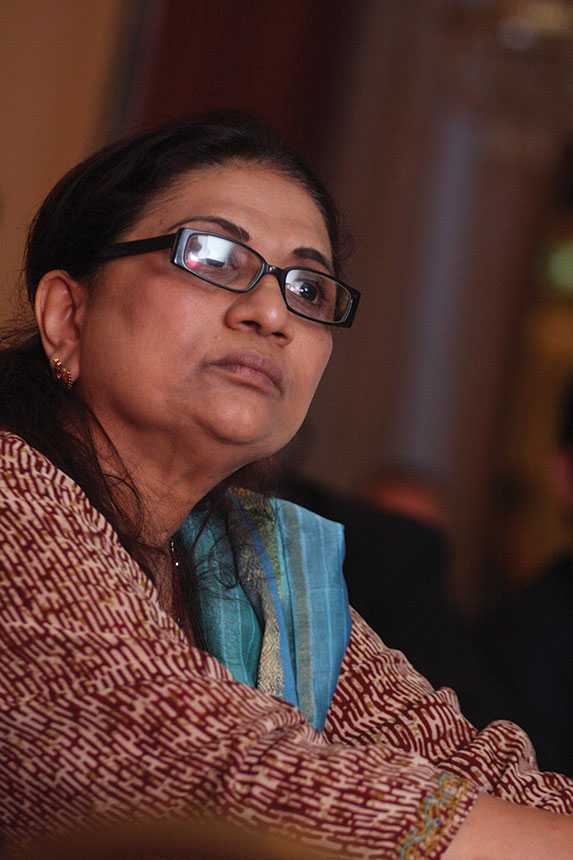 Elizabeth Shrivastava, Managing Director, AIMCO Pesticides
Editor's Note: This is part 1 in a three-part series; see parts 2 and 3 in the coming weeks at farmchemicalsinternational.com. Watch for the full report in the October issue of Farm Chemicals International magazine.

How has India's crop protection market evolved and what role do you see your company, Aimco Pesticides, playing?
India's crop protection market has had very steady growth particularly in the last three years. As many molecules are going off-patent, the generic market continues to grow for all Indian companies. Aimco's focus has been on new, innovative formulations. Our growth in terms of sales is steady at 18% for the last two years.
What can we expect from your company in the coming months?
We are looking to introduce two new insecticides and increase our  capacity of herbicides. We have a new manufacturing facility for a herbicide under construction and expect to be ready for start-up in eight months. In addition, we are working on registrations of actives and formulations in several countries in Asia and South/Latin America.
How is the Chinese supply situation affecting your business?
Aimco is not affected by the Chinese supply situation as far as raw materials are concerned. Fortunately our long-term contracts and commitments with the Chinese for raw materials have all been honored. The sourcing situation is looking very positive for India and for Aimco.
This is an opportunity not to be missed by Indian manufacturers. Our customers are very positive about sourcing from India and we can see a definite shift.
What about India's domestic market: What opportunities are you seeing?
Many generic molecules are being divested by the multinationals, which becomes a great opportunity for the Indian generic industry. The herbicide market continues to grow in India. We see opportunity for more solution-based products: nutrients, biostimulants and new, innovative formulations.
What are the biggest challenges your company is facing right now and how you are addressing them?
Aggressive pricing for certain Chinese products is a challenge. We are fighting this via sales of our branded products into the market. Weather conditions and uncertainties associated with it are always a challenge. Only continuous monitoring and planning and re-planning can help this, however.
—————————————————————————————————————-
What role do you see Atul playing in India's evolving market?
Atul Limited, a member of Lalbhai group of companies, is one of India's premier corporate houses. In 1967, Atul started manufacturing phenoxy herbicides and in subsequent years added more products to the range, including urea herbicides, sulfonylurea urea herbicides, clodinafop, indoxacarb, neonicotinoids and triazole group fungicides. Atul is supplying its products to more than 55 countries all over the world, and more than 50% of sales come from international markets.
Atul is growing continuously and posted a compound annual growth rate (CAGR) of 12.5% (FY 2011-2013). In 2013, Atul's sales rose 13% while the domestic market jumped 40% with a major focus in brand sales. We have 15 technicals and 46 formulations in our product range providing a crop protection solution for key crops like paddy, cotton, wheat, soybean, sugarcane and tea.
What can we expect to see from Atul in the coming months?
Atul plans to broaden its customer base in India and overseas; build a strong sales and marketing organization; promote its brands in India and overseas; increase manufacturing efficiencies and launch new products and formulations according to market need.
Any new products you would like to highlight?
Atul is one of the leaders in phenoxy-based herbicides, sulfonyl ureas and phosgene-based intermediates and products. Our R&D team is continuously working on new products, and we expect to introduce various products in these categories. The company is also working on expanding its presence across the globe by aggressively registering our existing products, with a special focus on the 2,4-D and indoxacarb range of products.
Can you comment on your plans to expand manufacturing capacity?
Currently we are one of the top-five global producers of 2,4-D, which is
98%+ pure, and the raw material is 99.5% pure. The company has invested heavily in distillation columns to deliver a quality product and also to protect the environment. We have plans to further enhance the capacity depending on the market. We are also undertaking a greenfield project for a multipurpose plant with plans to manufacture various actives.
How is the Chinese supply situation affecting your business?
It is true that today the majority of the companies are dependent on China for their raw materials. Over-dependency on China has led to these delays and shortages in supply. We are forced to plan well before our schedule to avoid such delays, thereby blocking our working capital. As we are strong in manufacturing, we have gone for backward integration for our key products, particularly 2,4-D, thereby totally cutting off the influence of Chinese supply. This is one of the major reasons why we can meet our supply schedule according to our customer needs.
However, we are dependent on China for intermediates of certain products which we plan well in advance. Backward integration will help to reduce our dependency.
How do you view the shift in sourcing to India from China?
Product shortages, the sudden increase in the prices and the impurity profile of a product are the main cause for the shift. Our customers are appreciating our quality and willing to pay more than for the Chinese. As impurity profile norms are being made stringent across various countries, our old customers who shifted their purchases to China purely for price advantages are now approaching us for a long-term association. We foresee a great opportunity for Atul and also for Indian manufacturers that are consistent in supply and quality.
What about India's domestic market: What opportunities are you seeing?
India's consumption of pesticides, at 0.6 kg/ha, is among the lowest in the world compared to 17 kg/ha in Taiwan, 13 kg/ha in China and 7 kg/ha in USA. The main reasons for this are lack of awareness of pesticide application, low purchasing power, shortage of required product and major dependency on the monsoons. There is an immediate need to increase productivity in order to feed the entire nation. With increasing awareness among farmers through various government programs and active promotion by industry, there is immense potential for growth of the crop protection industry – particularly for technical manufacturing companies like Atul. We have improved our domestic presence through forward integration with sales of branded products. We have already developed strong brands like Zura, Salix, Amsac, Cyno, Rymix and Rhyzo, and are further planning to expand our brand business across all states.
—————————————————————————————————————–
How has India's crop protection market evolved and what role do you see Bharat Group playing?
The Indian crop protection industry has been growing at an average of 12% to 15% per annum and for 2013-14 it is estimated to be $2.5 billion with exports accounting for an additional $1.5 billion to $2.5 billion. The major drivers include: expanding area under plant protection especially for rice and vegetables; increasing awareness about plant protection resulting in greater pesticides consumption; completion of irrigation projects bringing in additional area under high-yielding varieties and increasing disposable farm income driving adoption of inputs. In addition, the labor shortage is boosting herbicide growth in rice and plantation crops. Bharat Group, in its 37-year history, has been an active partner in the growth of the industry and has grown 40% over last decade.
Can you discuss your growth plans?
As a part of the growth strategy Bharat recently invested Rs. 200 crores ($32 million) in a state-of-the-art manufacturing plant at Dahej in Gujarat, and added neonicotinoids and molecules like phenthoate, fipronil and diafenthiuron to its portfolio. Bharat is going to manufacture fungicides like myclobutanil, tricyclazole and the acaricide fenpyroximate in a few months' time. To support extension education at grass-roots level the company has created a new department of market development. There are also a couple of new registrations in the pipeline for both the domestic and export markets. The group is looking for an alliance with international players and is open to making investments for capacity building.
Is the Chinese supply situation affecting your business?
There is no worthwhile impact. It is because of superior technology that we continue to be more competitive than China. The shift is a slow process and may happen in the long term. China is losing its cost competitiveness due to high overhead cost. Moreover Indian suppliers seem more dependable. Bharat has continuously enjoyed customer loyalty, which is its biggest strength.
What about India's domestic market: What opportunities are you seeing?
The domestic market has been growing at 12% to 15% per annum. The group has been strengthening its presence in the domestic market by expanding distribution infrastructure and aggressively promoting products at a grassroots level.
Can you talk about the biggest challenges your company is facing right now and how you are addressing them?
Bharat is moving well on a fast track, and there is no major challenge that can derail the growth plan. The only challenge is that the margins continue to be under pressure which is true for any competitive market.
—————————————————————————————————————-
How has India's crop protection market evolved and what role do you see Crystal Crop Protection playing?
The future of the agrochemicals sector in India is very vibrant. If we compare the consumption pattern of agrochemicals of India with developed and developing countries you can see a significant difference in consumption per hectare. Food, fiber and fodder is the basic need for any country for these maintain the balance – and the requirement is only possible through insuring the crop yield through agrochemicals.
India's consumption of herbicides and fungicides is growing by leaps and bounds. Crystal is enjoying growth in the agri-industry of 30%. The company is also playing a crucial role by providing quality education to our customer; i.e. farmers, about the judicious use of agro-chemicals for sustained growth and development. Our team of 1,000 work year-round for farmers.
What can we expect to see from Crystal in the coming months?
We will introduce low-dose patent molecules for the fungicide and herbicide category, and our seed verticals will launch high-yielding varieties of paddy and cotton for specific climatic zones. Crystal Agri-Equipments vertical developed various sprayers such manual-operated, battery-operated, high-tech and gasoline-operated spray pumps. Our objective is to redefine spraying practices and technology among the farming community through our motto, "Seed to Harvest Solutions."
What new products would you like to highlight?
Crystal has decided to launch new products worldwide providing baskets of products for important crops depending on geographies. Insecticides, fungicides and herbicides will be the focus areas. We plan to invest in important geographies gradually, with phases 1 and 2 already started. We also have international plans apart from agrochemicals, which is our core business. We have hybrid seeds following our 2012 acquisition of a seed manufacturing company in India, as well as sprayers, harvesters and other farm equipment and implements to offer to the community worldwide.
Can you comment on your plans to expand capacity?
Crystal has started a new plant for manufacturing and expansion is also planned for next couple of years, and we have identified the geographies to expand our manufacturing activities in the important industrial zones of India.
How is the Chinese supply situation affecting your business?
Crystal was the first Indian company to enter the Chinese market in a big way in 1998, and we have the highest number of registrations for molecules from China to India. Environmental compliance is a matter of concern in China today and is a prerequisite for any good Chinese company to continue on a long-term basis. Surely the shortages, inconsistency in supply and frequent price changes do affect us, but our choice of partner in China is key to our success in such an adverse situation. Our major associations in China are with companies that are strong enough to spend money on environmental compliance and constantly innovate production to bring down the cost. Although the prices of all major molecules have reached new highs, due to our long-term association we feel we are better-placed in the supply situation than our peers.
How do you view the shift in sourcing to India from China due to shortages?
It's good for the Indian agrochemical industry. We set up a state-of-the-art manufacturing facility in India seeing the shift in the last two to three years. However, due to its mass production, China will remain the leader for generic products. India initially is viable for new chemistries and the cramp business of patented products, and in another four to five years as the number of players and production facilities expand, it will become another major hub for sourcing of agrochemicals. The market is increasing worldwide and there is enough space for Indian manufacturers to establish their mark.
The Chinese supply chain situation has contributed a great deal in shifting sourcing to India as Indian supplies have no volatility, and Indian manufacturers are mainly focusing on quality product, timely deliveries and great service levels. Our customers globally are satisfied with these and consider us a reliable partner. They have started discussing more and more products to be sourced through us to utilize both our strengths in the Chinese market and India's manufacturing excellence. Customers are always happy to have another alternative, and we are sure customers worldwide will increase registrations of Indian origin products in the future.
What opportunities are emerging in the domestic market?
The domestic market has immense potential in the herbicide segment because of manpower constraints. Expectations of farmers are quite higher in terms of control of pests, disease and weed control for longer duration. Our new combination product will be an answer to it. Crystal's wheat and soybean herbicides, insecticide for the lepidopteran segment and fungicide for disease control on grapes will open new doors of opportunity.
Please talk about some of the biggest challenges your company is facing right now and how you are addressing them.
Crystal is growing at about a 35% CAGR, and while we are always looking at improved CAGR and top-line growth, on the other hand, we are challenged by the increased costs of raw materials and manufacturing expenses. At the same time, market prices for our products remain the same or reduced.
Also, there is a delayed rainy season in India impacting total agrochemical consumption. However rains have stabilized and recovered to the satisfaction of all stakeholders, farmers included.