How Biostimulants are Proving Their Worth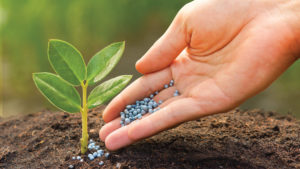 Biostimulant products are at the edge of major expansion, and crop protection distribution companies have a great opportunity to capitalize on growing demand and use. Amino acids, fulvic acids, humic acids, seaweed extracts, microbials, beneficial fungi, protein hydrolysates, biopolymers, and inorganic compounds have long been used in specialty agriculture crops. Fruits, vegetables, nuts, nursery crops, and greenhouse operations have been early adopters of these natural technologies around the world.
Prior to the last 10 years, their efficacy has largely been anecdotal. Small-area crops are easier to monitor, and farmers were able to gauge the positive effect of biostimulants long before sophisticated R&D studies proved their worth. Their benefits were tangible: Biostimulants create healthier plants that are better suited to fight disease, endure abiotic stress, and produce plentiful, high-quality fruit. Now the science is catching up to the outcomes.
"We've entered a green revolution in plant health," says Fabio Agnolon, Product Manager for Sicit 2000, one of the first companies to produce and market amino acids for biostimulation 50 years ago. The company has revenues of $51 million and is growing about 15% per year. "We are getting very good at understanding how the peptides work in the plant so that we can promote root growth in natural ways, increase the activity of crop protection products, and improve yields and quality."
High-value production systems, often with limited and defined space, are incentivized by optimizing yields and produce quality. Biostimulants create healthier plants that help them thrive during stressful conditions, and the documentation on their efficacy is improving every day, largely because of the increased sophistication of companies that are operating in this space.
Biostimulant companies have been working diligently during the past 30 years to validate their products with rigorous efficacy studies. Many companies are following industry standards for crop protection, including in-country field trials and laboratory studies.
"Genomic testing allows us to understand the expressions of phenotypes, which tell us exactly how to apply the products because the metabolic pathways have created some predictability for efficacy and application timing," says Marco Rosso, Global Corporate Affairs Director for Valagro, a $119-million company that sells 20 product lines into 80 countries.
Genomic and other testing has become standard for biostimulant companies. R&D now leads product development for the sector much as it does for traditional chemical companies. And it is an exciting time because new breakthroughs are being discovered regularly as scientists build on their understanding of soil health, root activity, and the interdependence of materials and organisms in the plant's microbiome. In many ways, we are just starting to understand how and why biostimulants work, and the science could usher in an agronomic shift in crop inputs.
"The future of feeding the world is integrated crop management," Rosso says. "Global damage from abiotic stress has exceeded crop damage from pests, and farmers understand the problem."
Demand Drivers & Growth
That agronomic demand from farmers, along with a grassroots influence from consumers and retailers for lower-residue and organic produce, has given the sector a considerable boost in the past few years.
"If you would have told me five years ago that the industry would go in this direction this quickly, I would have not believed it," says Italpollina CEO Luca Bonini, a third-generation manufacturer that began making fertilizers in the 1950s. The company's first biostimulant products were developed in 1991, and now the company exports those products to 70 countries. The company is investing into manufacturing in the burgeoning U.S. market while maintaining its original production in Italy and an R&D center in France. The company has grown 25% in the past five years. "No one was investing into biostimulants when we started. R&D and investment into new technologies has changed the dynamic of the industry quite a bit, and there will continue to be a lot of movement in the next five to 10 years."
Some of the industry's growth has been instigated by large investments from multinational companies. In 2012, Bayer bought California-based AgraQuest for $425 million. Later that year, BASF paid $1.02 billion for Becker Underwood. In 2013, Monsanto established an R&D and distribution partnership with Novozymes called the BioAg Alliance, which set targets to serve 25% to 50% of U.S. farmland by 2025.
Quite a few post-patent companies have joined the fray as well. Arysta LifeScience bought Mexico's Grupo Bioquimico in 2007, and French-owned Goemar in 2015. FMC, Isagro, Sipcam, Sapec, and other post-patent companies have aggressively entered the segment during the past 10 years, some of them just recently.
These investments have generated new interest in products and have helped drive research into their agronomic functions.Biostimulants increase photosynthesis efficiency, drought tolerance, cold tolerance, heat tolerance, salinity tolerance, root growth promotion, more and better-quality flowers and fruit sets, decreased fruit rot and cracking, uniformity in fruit color and ripening, produce shelf life, and fruit size.
Additional benefits include optimization of crop protection products and chemical fertilizers. Healthier plants render crop protection products more efficient and effective. This means that traditional pesticides can be more efficacious with the addition of biostimulants at the right times
of development.
Distribution
Depending on the biostimulant product, application timing can be quite specific for optimized efficacy. Much of the technology is applied in furrow, while others, especially products that promote fruit production and quality, can be applied through foliar products. Biostimulants also can work differently depending on the crop, climate, and conditions.
Like other manufacturers with expertise in R&D and products that have specific application protocols, biostimulant companies, by and large, rely on distributors to relay product use to the end user. This is why these products tend to follow crop protection in the crop protection value chain.
"The companies who are successful today focus on trading with the right partners, ones who address their clients like we address our markets," says Nicolas Lindemann, Executive Director of Madrid-based Tradecorp, a division of Sapec, which sells about $89 million of specialized nutrition into 60 countries. "There is still a knowledge gap about these products, so we work with partners that have a framework to convey that knowledge to farmers. We think these technologies are going to bring a revolution in the market, and that means we are looking for long-term relationships."
Lindemann says Tradecorp has about 150 families of products that the company custom develops for specific crops in different markets. That kind of response to market demands reinforces the manufacturing-centric nature of biostimulant companies and their need for strong distribution partners.
In many cases, companies are looking for partners to conduct in-country field trials to expedite registration requirements and provide more data for growers. Many companies fund studies in academia, too, to help move the process along and create buy-in at the academic and extension-service level.
"The first step we take when entering a market is to engage universities so they can do field tests and understand how the products work in those environments," says Nicola Farina, Sales, Marketing,
and Communications Director for Italy-based ILSA.
That kind of engagement illustrates how focused biostimulant companies are on R&D and the effort it takes for manufacturers to prove efficacy for a segment that has been forced to overcome a snake-oil reputation. As a result, biostimulant makers are extremely careful to choose trading partners that will continue to advance the reputation of the segment and the proper use of their products so adoption grows along with farmers' productivity and quality
of produce.
"We work directly with distributors that have knowledge of our products," says Francisco Espinosa Escrig, Chief Research Officer for Valencia, Spain-based Siepasa, which expects to double its $12 million revenues in the next three years. "It is our philosophy to look for high-quality partners, from day one, who we can work closely with at every level, from field trials all the way through the value chain to the final grower."
Licensing can be another option for growth. Ignacio Horche, CEO of Green Universe Agriculture, a relative start-up founded on its microbial R&D, says the surge in R&D activity in the segment will ultimately lead to more buyouts of both companies and product discoveries alike. Larger distribution companies might be looking for proprietary branded products as well.
"Multinational companies are looking for specialty products and exclusive technologies that they can develop, and that is something that we can offer," Horche says, adding that tailor-made microbial mixtures can be blended with some crop protection products for ease of use, and the possibility of creating a new patented product because of its uniqueness.
That dynamic is playing out across other segments, too, especially crop protection, as a consolidating value chain means fewer manufacturing companies, more centralized distribution, and fewer retailers are able to deliver products to farmers. As this consolidation puts pressure on all levels of the value chain, trading partners in various segments of crop inputs will be working to solidify market access for products and differentiating their portfolios to stay competitive for growers seeking full-service product options.
Contact David Frabotta at  [email protected]