Seeking Stability in South American Agriculture
There are a few different philosophies when it comes to making business expansion decisions. Some entrepreneurs seek to sniff out trends and markets in their infancies in order to capitalize quickly at the ground floor. This is typically referred to as the high-risk/high-reward mentality.
Other investors take a more conservative, slow-and-steady approach, instead choosing tried and true markets and investments to stake their claims for long-term bottom-line growth.
When AgriBusiness Global™ magazine began conducting interviews to dig into Chile's unique Latin American market, it was immediately clear that our conversations in Chile would not be quite the same as they are in other locations, such as California, Spain, and South Africa. Although it is true that there are surface-level correlations to make between the four markets — all are globally leading high-value crop producers; all are experiencing massive maximum residue levels (MRLs) and registration evolutions; and all are going through climate-related difficulties impacting their ag sectors, etc. — the tone of the conversations in Chile have a different energy.
Structure of Success
Chile President Sebastián Piñera was quoted repeatedly during his election and acceptance speech as saying that he plans to transform Chile into a developed country by 2025. This may not be such a longshot plan, as Chile currently lies at the top of the richest nations in Latin America by GDP per capita.
To reach this status, the government has steadily been implementing regulations across all sectors to ensure it is in concert with its developed-nation peers on key topics. One area of reform that has impacted agribusiness is Resolution No. 5482/2016, which cites that the impetus of the reform is "the new requirements and criteria of the European Union and the new testing guidelines of the Organization for Economic Cooperation and Development (OECD)."
These regulations have created some growing pains for the country's $450 million agrichemical market.
Raul Luna, the Founder of Chile's first registration company, Acres, says that the new registration guidelines, which were published by the Agricultural and Livestock Service of Chile (SAG) in 2014 and took effect fully in 2016, were made with the best intentions but not executed realistically.
Initially companies were told there would be an evaluation of currently registered products in-country that would set the standard for future registrations. This did not wind up occurring on implementation.
Furthermore, registration expirations were not clear to many companies, which, when combined with the lengthy processes for re-registration, has greatly impacted the toolbox available to growers. "The product portfolio available for use here is quite small," Luna says. "There may actually be fewer products registered here than there were four years ago. Furthermore, we still don't know the expected timeline for products to be processed and approved. … They initially set the expectation at eight to nine months, but they have never complied with that verbal commitment."
The reasoning? Likely a simple question of manpower and departmental expertise that correlates with processing the new
details required. "As an example," he says, "we submitted a dossier for review in September of 2016, and only just got the first review in January of 2018."
There is a silver lining to the lengthy flow of the registration process, Carlos Sanchez, the General Manager of Nufarm Chile Limitada, says. The Chilean market, right down to the crop input registration office, is 100% fair. "Here, it doesn't matter if you're Bayer or the little guy, everyone is waiting in the same registration line, and everyone is treated the same," he says.
The need to plunk down a heavy amount of capital (nearly $300,000 per registered product, Luna estimates) prior to having the ability get it back in sales may be a main reason why the landscape of crop input companies in Chile consists of 80% multinational companies. They can afford to wait out the registration period or afford to purchase a company with the desired registrations to skip the wait.
Luna puts it simply: "When you buy the company, you get the registrations. The most efficient way to enter the Chilean market is to purchase a local company, obtain their registered products, and process future registrations through local consultants familiar with the legislative complexities."
This was the exact path followed by Adama Chile, which entered the Chilean market in 2013 by purchasing the market leader in the biostimulant sector, ChileAgro.
As with the Adama origin story, AgriBusiness Global had the opportunity to catch up with Bayer Agricultural Engineer Alan Peter Luer Barbieri while in-country. The veteran of the merger and acquisition Chilean churn mapped his employment evolution by listing companies five deep acquired by one another, leading him to his eventual home at Bayer.
Whether or not this M&A trend is the direct result of the legislative hurdles that agribusiness companies face in Chile, the fact is the high-value crop nation, with its free-trade agreements spanning 65 countries, has become a highly condensed and competitive market.
Distribution Nuances
Andres Ariztia, Director and Chief of Marketing and Business Development at Adama Chile, has some experience in the area of carving out a leading place in the aggressive Chilean agribusiness industry. Of the difference between doing business in the Chilean market vs. other comparable nations, Ariztia says, "this is not like other countries, where you can come in and just sell. If you want to grow here, you have to work at all levels."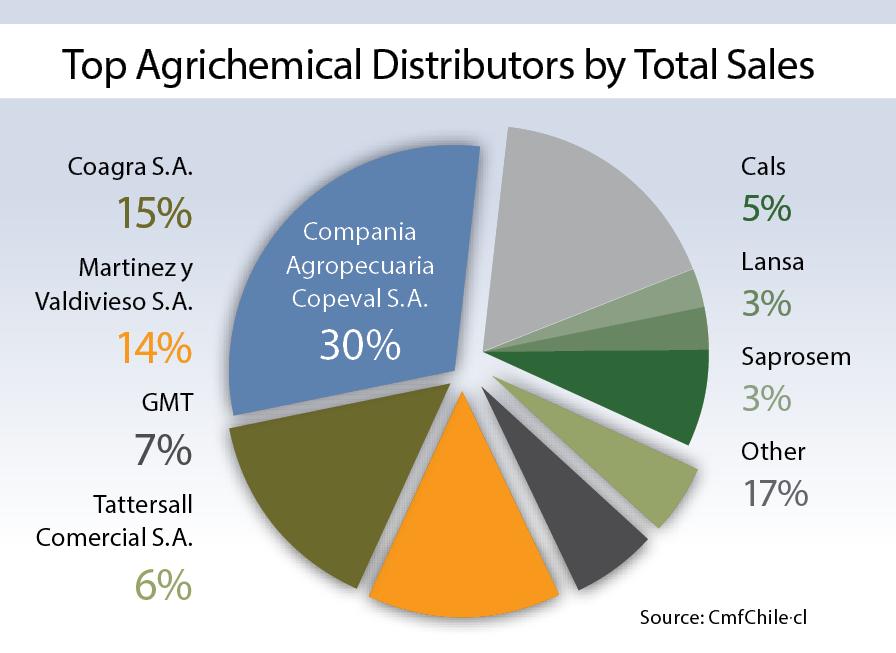 Ariztia refers to the fact that, in Chile, the distribution chain is a bit different than other countries. In Chile distributors sell directly to growers. The retail element of the value chain, which exists strongly in the U.S., for example, is not such a factor in Chile. And while there is a relatively small subsection of actual distributors in-country, finding well-connected distributors is not the biggest key for suppliers to sell here. It is actually creating demand from the growers. This responsibility apparently lies uniquely in the hands of the manufacturers themselves.
Because Chile is the largest fruit exporter in the southern hemisphere, with nearly 2.6 million tons of fresh fruit from Chile's 1.2 million hectares leaving the country for destinations (in order of volume from high to low) such as the U.S. and Canada, Europe, and Latin America, products with low-residue profiles and a direct positive impact on the nutrition, quality, and condition of the fruit are the most successful.
"This is a pick-pack-ship" market, says Daniel Manriquez, Research and Development Director, Latin America, for AgroFresh, which specializes in pre- and post-harvest solutions for high-value crop producers. "What that means is that this truly isn't a copy-and-paste market.
"A fruit picked from a Chilean field could take 65 days to reach China. Forty-five of those days might be spent in transit after cleaning and packing, leaving the fruit only a five-day window at a store to sell to the final consumer."
Ariztia says input buyers here are not looking for new active compounds and formulations, either. "Newer formulation technology isn't really popular in Chile, as these can require a learning curve and impact residues, which then impacts export abilities."
"Our fruit has to travel," Manriquez says. "Because of that, there are more steps and a few more concerns involved in the overall sales process." Put simply, he adds, "Our client, in the end, is the European grocery store, which is looking for fruit size, color, and traceability for its buyers."
There's a lot of talk in the crop input industry globally about skyrocketing markets, such as Brazil, and "what's next" prospects, such as Indonesia. But Chile presents a reliable opportunity for the type of long-term growth valued by conservative entrepreneurs.
There's a unique need in Chile for a service-oriented, hands-on supplier in tune with the high-value export market.
Despite the potential extra effort downstream and patience needed during registration, there's something uniquely comforting about a mature market genuinely and transparently trying to do the right thing by its value chain participants at all levels.