Actagro Announces Positive Corn Trial Results for Proximus
Actagro, a provider of environmentally sustainable soil and plant health technology solutions, released results showing that in over 40 multiyear corn trials, Proximus increased average yield by 10 to 15 bushels per acre2.
According to Actagro, the research findings make a strong use case for the company's new nitrogen management solution among growers looking to better manage their nitrogen investments and increase yields.
"The replicated results, over multiple years and across key growing areas in the Midwest, showed significant, positive response rates, improved nitrogen uptake, and yield increases over non Proximus treatments," said Dr. David Hernandez, Director of Agronomy and Field Product Development at Actagro. "Proximus has also been proven to reduce soil nitrate leaching, which ensures more of the applied nitrogen is available for crop uptake."
Proximus, the first patent-pending product launched by Actagro under its innovative Nutri-Guard Technology Platform, is designed for use with liquid N fertilizer and works to reduce nitrate leaching by increasing the natural microbial populations within the soil. These microbes prevent nitrogen from leaching while ensuring synchronized delivery of the nutrient to the crop when it is needed most.
"Proximus is not a nitrogen stabilizer, but through a unique and patent pending mode of action, it helps farmers in two important ways – first improving nitrogen use efficiency and then by protecting the crop from potential leaching losses," said Paul Reising, Actagro's Director of Strategic Product Management. "Its unmatched reliability makes it a proven, new management tool for all crops that require nitrogen."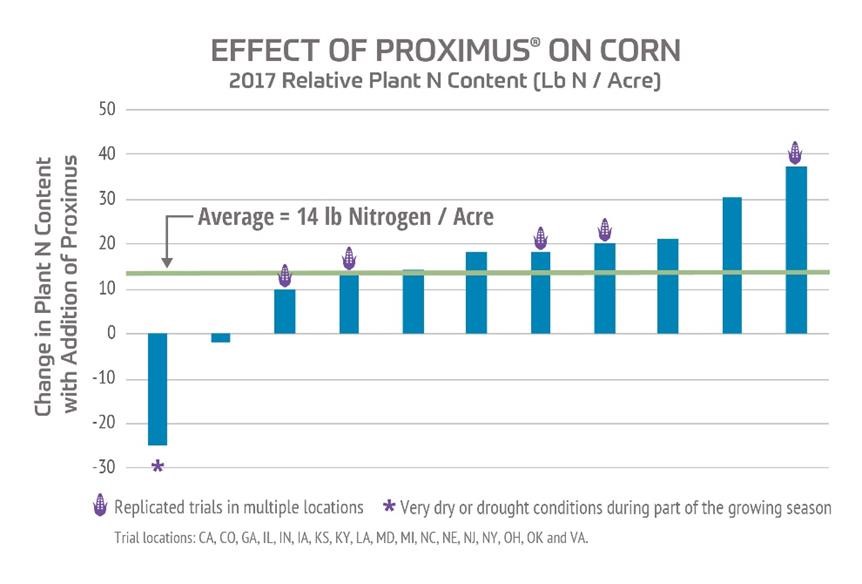 1Source: Actagro, 2017. Based on 11 demo and replicated trials across the U.S.