China Price Index: How Agrochemical Companies Can Overtake the Competition During a 'Rainy Race Day'
Editor's note: Contributing writer David Li offers a snapshot of current price trends for key herbicides, fungicides, and insecticides in the Chinese agrochemical market in his monthly China Price Index. Below he also explains when the global crop protection industry is in adversity, it is the cooperation and sharing of global resources that will enable the empowerment of agrochemical companies and "make a rainy day overtake."

Ayrton Senna, a famous Brazilian Formula 1 driver, famously said, "You cannot overtake 15 cars in sunny weather … but you can when it's raining." The convergence of adverse factors and risks is often a precursor to opportunity. During challenging times, the adversity itself is often not that important; how to find opportunities in that adversity is the critical skill.
In May 2023, the total amount of glyphosate imported into the U.S. decreased by 97.9% compared to the same period last year. The North American market imported 65.7% less glufosinate YOY 2023. Total North American imports of burndown herbicides were down 45.2%. North American demand for the three major burndown herbicides trended at significantly lower levels in May. This situation chilled an already depressed market.
The weak demand in the North American market in May also signals that the digestion of North American agrochemical inventories continues to be a challenge. Chinese manufacturers are relying on LATAM's new season. May is too early to expect a demand in the South American market. Although that region, especially the Brazilian market, shows promise for the application of agrochemicals, it is still doubtful whether the South American demand will start on a large scale in June. Faced with multinational companies for the channel purchasing power of the squeeze, distributors in generic AI procurement have little "wiggle room."
According to recently released public data from ICAMA, China's pesticide exports dropped significantly to 660,000 mts in the first quarter of 2023 compared with the same period in 2022. This year's figure is similar to the total amount of raw materials exported by China in the first quarter of 2021. However, correspondingly, the total value of China's pesticide exports in the first quarter of 2023 decreased by 63% YOY 2022. Chinese manufacturers' gross margins for pesticide AIs are approaching historically low levels.
Lavie Bio Expands Bio-Inoculant Product for Spring Wheat to Durum and Barley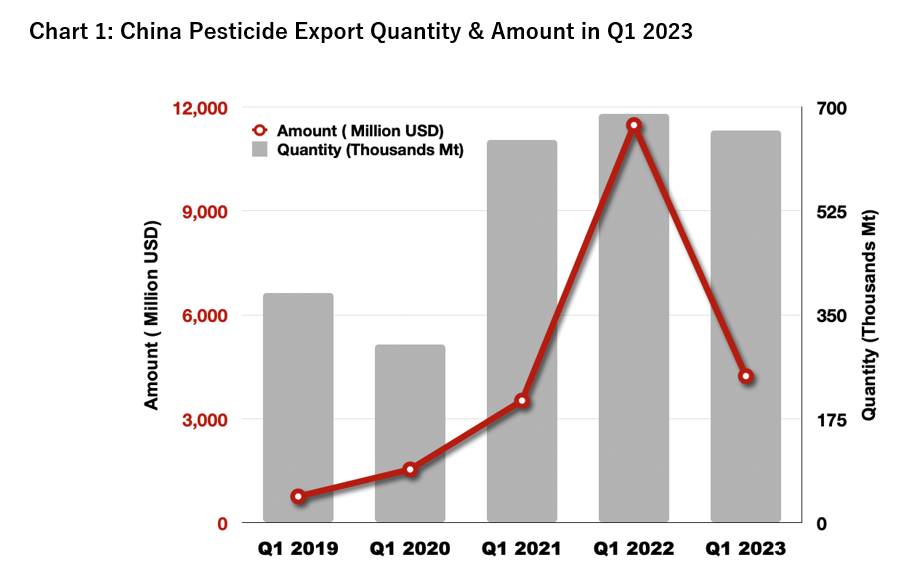 Of course, product prices cannot fall indefinitely when demand is sluggish. The complexity of the Chinese pesticide market in 2023 is far greater than practitioners imagine. High inventories and uncertainty about the profitability of agricultural bulk products lead to poor distribution and consumption. Additionally, demand in North America may still struggle to recover in the fall of 2023. Ongoing purchases by distributors are now largely diluting the high-priced inventories purchased during 2022. In South America, while farmer consumption of crop protection products is positive, high channel inventories remain a key constraint on purchasing decisions.
During the market downturn, almost all procurement teams await a price inflection point to appear. However, even the arrival of an inflection point does not mean a big contract is coming. As we predicted earlier this year, fragmentation of orders and cutbacks by multinational companies are becoming a new reality. In 2023, price is no longer a key factor for Chinese pesticide companies looking to boost sales.
The current gross margin for glyphosate in China is nearly 15%. Yellow phosphorus prices have recently moved higher. So, has the inflection point for glyphosate prices arrived? Unlike the views of many glyphosate sales managers, we believe that the price inflection point for glyphosate has not yet arrived. The higher price of yellow phosphorus is mainly due to the sluggish demand of downstream glyphosate and moderate adjustment of upstream yellow phosphorus production. The high price of yellow phosphorus further illustrates the current poor sales of glyphosate market. On the other hand, as the exchange rate of CNY against USD has continued to depreciate recently, this has also reduced the USD price of raw materials produced in China from the side. The downward movement of prices of such bulk agrochemicals as glyphosate will continue.
Compared with the forecast of glyphosate sales, we believe more in the economic principle that "price is the reflection of supply and demand." If we do not see strong support on the demand side, then prices will not be easily reversed by artificial factors. At present, there is an increase of glyphosate inquiry orders in the Chinese market. The reason may be more to provide higher cost support for glyphosate formulation sales in overseas market by a lower price. If there had to be an optimal timing for sourcing, the risk level of acting now and deciding in the fourth quarter of 2023 would be similar. This is because if the procurement team's goal is to enter the market at a moment when glyphosate gross margins are zero, then the risk of purchasing now is only 15% of current glyphosate prices. With a manageable level of procurement risk, planning at any point in time is within a manageable range.
The downturn of whole China agrochemical industry in 2023 is inevitable. But it is a time for some companies to overtake other competitors in the "rainy race day."
Corteva recently updated its R&D pipeline in 2023. Sustainable innovation will be the future direction of Corteva's R&D development. Reduce non-target risk, lower environmental impact, adopt novel modes of action, low risk to groundwater, focus on biological and natural products, and low dosage for field application will be key attributes of Corteva's sustainable future.
For generic pesticides, it will be very difficult to achieve all these characteristics. From our R&D scouting, Chinese innovation teams can focus their attention on one or several areas of overlapping innovation, such as targeted synthesis of chiral pesticide isomers to enhance the efficacy and lower the dosage, development of innovative formulation delivery systems, and development of innovative biologics from special raw materials.
A "Modulized Innovation" partnership between global generic companies and Chinese pesticide companies is taking shape. Back in 2019, I first proposed "Modulized Innovation" in the crop protection industry. As multinational companies and globalized distributors have limited resources for internal innovation and R&D, third-party cooperation to introduce external innovation resources will be the development trend for companies, which has intention to capture wider moat in the market. There are two main models of external introduction of innovation, one is to directly license-in innovation. The other is to invest capital and bear part of the R&D cost with developers. Globalized enterprises acquire partial ownership of the R&D results assets through investment. Through this model, globalized companies can leverage the innovative talent resources in the second largest economy in the world with a small amount of capital and eventually generate shared intellectual property.
At a time when the global crop protection industry is in adversity, it is the cooperation and sharing of global resources that will enable the empowerment of agrochemical companies and "make a rainy day overtake."