Competition, Regulation Spurs China Innovation in Agrochemical Industry
Editor's Note: David Li, Business Manager at SPM Biosciences Inc., attended AgroChemEx 16-18 October in Shanghai. Here he shares his insights on sentiment surrounding the global crop protection industry.
AgroChemEx attracted more than 45,000 registrants in 2019, which was a surprise to many global attendees. The world and certainly the crop inputs industry have changed greatly since the previous year's event. Suppliers and traders were happy to develop their relationships without the need of a transaction. The change for 2019 can be summed up in a single word: competition.
After China's national holiday, many manufacturers started production. With a low inventory level, buyers are focusing on products in stock, with new capacity coming from Northeast and Northwest China. The market has the perception that price will be shaking soon since the re-production in some areas of Jiangsu industry parks. However, there is still a lot of uncertainty from that region. Some big companies like Nutrichem are still facing production limitations because of the Jiangsu XiangShui industry park issue. In addition, India's capacity is growing, and Chinese suppliers are feeling the competition.
In 2018 China's pesticide export revenue was valued at U.S. $8 billion, an 8.9% increase over the U.S. $7.4 billion seen in 2017. While the value was up, the volume decreased 13.5% to 1.4 million metric tons.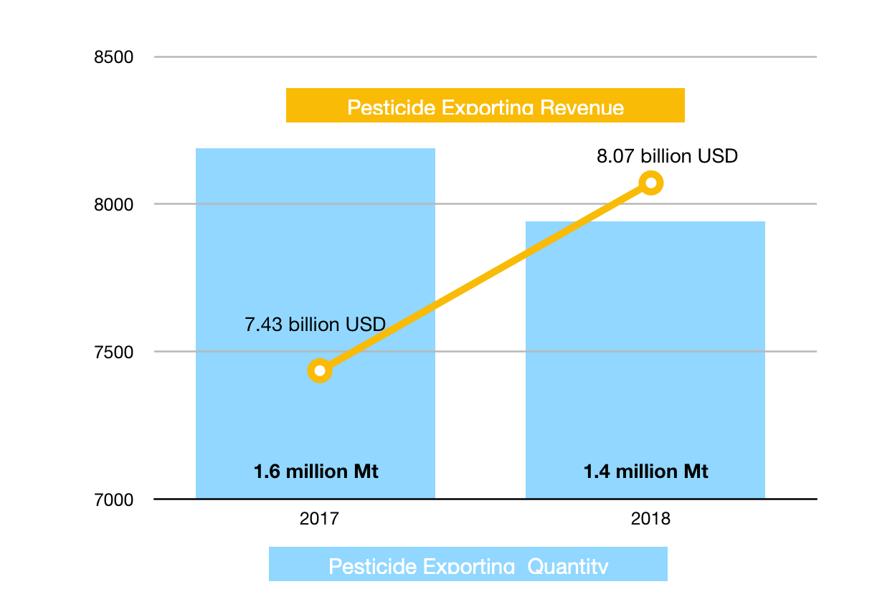 Some active ingredients saw shortages, which forced global distributors to pay more for those products. It was a reasonable result that the balance between supply and demand will decide the price of transaction. Climate change has also contributed to a decrease in global demand for agrochemicals. Other factors contributing to the price/demand ratio include:
High levels of inventory in the distribution channels from multinationals,
The high price of AIs in 2018,
Distributor cash flow will affect orders in 2019.
With the pressure from Indian competitors, it seems that the price for some none shortage products from China, like herbicides, is going to be flexible to talk between sellers and buyers.
Competition Benefits Agrochemical Industry Growth
From growth mindset, it is good to see the global competitors rising like India. It will force Chinese suppliers to develop and execute new strategies. This will cause an enhancement of the China agrochemical industry.
China still has good availability of several resources, including chlorine, fluorine, and phosphorus. The basic inorganic chemicals, like nitric acid, hydrochloric acid, and phosphoric acid, which are produced in China, are available about 15% cheaper than from India. The petrochemical industry in China is the most complete value chain. The level of HSE from state owned organizations is higher than from private companies with stable manufacturing. Since the "storm of environment protection" in 2017, chemical companies have been enhancing their VOC (volatile organic compound) and MVR (mechanical vapor recompression) control.
Regulation Forces New Capacity
The status of China's agrochemical industry is affected by government's pesticide regulation strategy. Due to a new regulation affecting pesticides from The Institute for the Control of Agrochemicals, Ministry of Agriculture (ICAMA), the new AI registration process will be more difficult to manage than it was previously. Combined with an environmental focus on production, that means China will continues to phase out production capacity.
Manufacturers with high levels of technology and efficient production will be "reborn" from the ashes like a phoenix. The result of government policy means an industrial park will be the only area in which agrochemical companies can exist.
The government wants to protect the people especially around Taihu Basin, Yang Zi River, and other areas with water ecosystems. Regulators are forcing agrochemical companies to adopt a socially responsible approach.
These changes also mean many manufacturers are moving to Inner Mongulia and Ning Xia province, northwest of China. For example, the ZhongShan Chemical invested in Inner Mongulia for 10,000 mt of mesotrine production capacity. The move does come with some challenges, including the control of waste output in the desert, finding skilled chemistry technical workers in that area, raw materials supply, and transportation from land to sea. How successful the company will be is yet to be seen.
Shandong CYNDA Chemical also chose to move. It moved up to the northeast of China, Huludao Industry Park, where the company invested on 6,000 mt AI capacity and 10,000 mt formulation capacity in Huludao, Liao Ning province. The investment will be more than 1 billion RMB since the one production line cost more than 100 million RMB in China. One advantage to the Liao Ning CYNDA location is that it is close to the port of Dalian. It is near the region's petrochemical industry. Labor is also more available in the northeast because industry has been important to the area for more than 50 years. The northeast has good technical workers with higher levels of education than Northwest.
New capacity from both these regions will affect the global supply in coming two or three years.
The uncertainty around availability of materials from China has multinational companies and global pesticide distributors searching for new sources from India. The global production lines in India, the EU, and the U.S. will also benefit (at least in the short term) from the shortage created by China. But global producers should consider the new capacities that have or will come online in China in 2019 and soon thereafter.
M&A Activity Enhances Diversity Development
In addition to China's manufacturing arena, China's agchem manufacturers have delved into M&A activity. In 2019 Yangnong Chemical announced a 900 million RMB deal to acquire the key pesticide assets of Sinochem Crop Protection. Shenyang Sciencreat Chemicals is one of key manufacturers of imazepyr, imazethapyr, clethodim, mesotrione, and diflufenican, among others. The acquisition of Shenyang Sciencreat will enhance the performance of Yangnong's portfolio. It also helps Yangnong's efforts to become a key supplier to multinationals.
Limin Chemical Co. also aggressively pursued an acquisition. After the 230 million RMB pick-up of Hebei Shuangji in 2017, Limin become the biggest producer of mancozeb with more than 30,000 mt capacity. In 2018, Limin also acquired Hebei Veyong in an 800 million RMB deal. The key reason was to enhance the company's product portfolio. In the deal, Limin added abamectin and glufosinate, among other products to its offerings. Moreover, Veyong already had a plant in Inner Mongolia, which Limin can use to cover the mitigate production controls in Jiangsu.
China's agchem industry faces constant change. This was especially so in 2019. That change, though, will create opportunities for more competition in 2020, not only in China but also for global competition on cost savings and service provided to global distributors and multinational companies.
The production status is much more sensitive to multinational companies' sourcing manager. But consider the global market of crop protection. The whole industry is facing the consumption issue. Due to the weather issue, multinationals are having big inventory to achieve the annual sales. But the consumption is still weak. Some distributors were losing their market since the shortage of AI supply from China. When everyone is focusing on how to make money during the shortage supply, the sales managers from different agrochemical companies shall change a little bit to think about the global farming. Is there any disruptive technology changing the end users' purchasing behavior? Will change affect the whole value chain? Change initiates evolution of strategy. It always brings new point of growth.
That sentiment was captured in the wisdom of Carl Casale, former CEO of Inver Grove Heights, MN-based CHS Inc. In an interview with the StarTribune he was asked: "How do you evaluate potential investment opportunities?" Casale replied, "We've developed a very narrow investment thesis. It's basically on agricultural production tools that fulfill that 'do more with less' mission."
Do more with less! Let's hope it will bring brilliant insight to global crop protection manufacturers as well.