SLIDESHOW: Short on Supply, More Agchem Buyers Look to India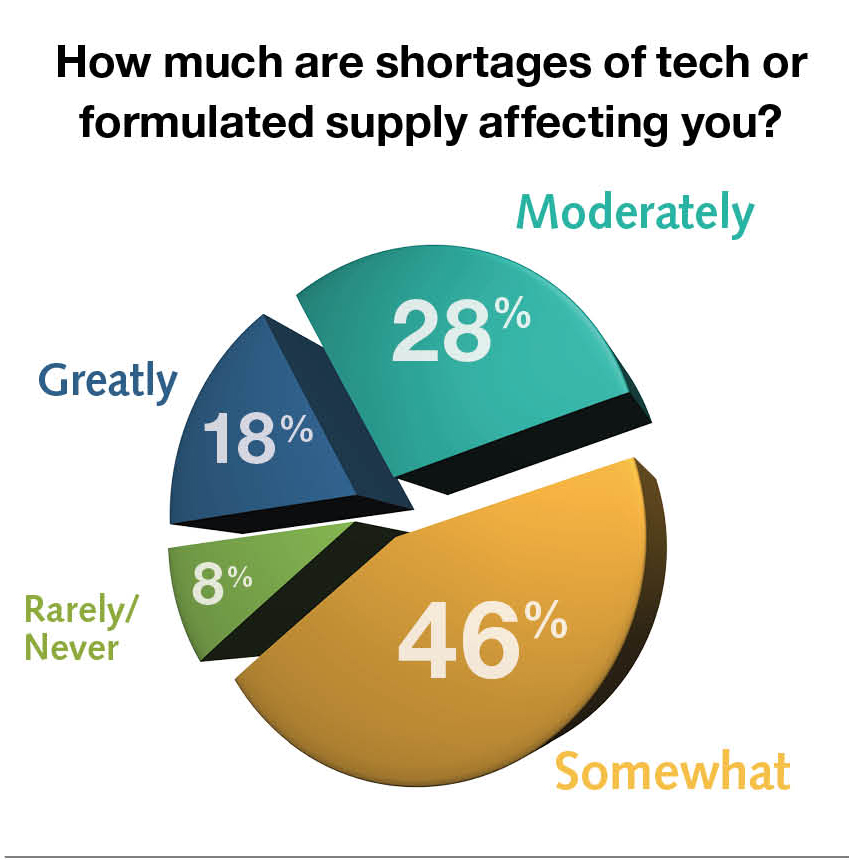 FCI Product Shortage Survey
Having trouble finding glyphosate, paraquat, dicamba, imidacloprid or [fill in the blank]? You are not alone. The rising cost of raw materials, the strengthening renminbi, and most notably, China's campaign to strictly enforce environmental standards through factory shutdowns and sharp output restrictions are at the root of supply shortages sending jolts through the agrochemical industry.
This article takes a look at the conversations with our readers that emerged from the FCI Product Shortage Survey, which was conducted in March, as well as responses from suppliers.
It remains to be seen how greatly the consolidation will affect small- and medium-sized distributors and traders globally when the dust settles. For now, Bill Bienapfl, head of the WestLink Ag buying cooperative in Idaho, is sure of this: "The whole market is not being serviced. I know my people don't have enough product, and I don't think we're the only group on earth that doesn't have enough product."
Berris Agricultural Co., a Philippines-based importer and distributor of  pesticides, fertilizers and biologicals that is expanding into the veterinary and animal health business, is another of countless companies that have felt the aftershocks of China's clampdown on pesticide manufacturers.
Mark Grageda, Berris general manager, told FCI that after the Chinese government shuttered technical-grade manufacturers of cartap for environmental reasons earlier this year, not only have prices of the insecticide jumped, Berris now must prepay all orders, and lead time for orders has swelled to four to five months from the usual one month.
"Some of our customers cannot reach the market on time as a result of delayed deliveries, prompting them to wait for the next season, thereby incurring inventory holding costs and lost opportunities," Grageda said. "Payments to us will also be delayed which is a big impact on our cash flow because we normally pay letter of credit (L/C) at sight with our suppliers."
The shortages, he pointed out, "are giving opportunities to open the market of alternative pesticides that previously were not selling." Despite the difficult situation – which he expects to remain unchanged this year – his company is sticking with its Chinese suppliers, with whom he has built a strong relationship over the past 10 years.
Many others, however, say they are actively looking beyond China – namely, India and various local suppliers, to varying degrees of success.
German Pessagno said Chinese supply shortages have given him little choice but to evaluate other sources. His company, Chemtec S.A.E. in Asunción, Paraguay, is able to fill in some of the gaps with its capability to synthesize some AIs. Despite challenges in procuring paraquat, glyphosate, emamectin benzoate and other insecticides, he has found that alternative sources in India or elsewhere in Asia simply cannot compete with China.
"We have found that when you go out looking for suppliers or for intermediates, we fall back to the same companies that synthesize the AI, and therefore also control prices and supply of intermediaries," Pessagno explained. "Today the chemical industry and particularly the phytosanitary industry have been focused almost exclusively on China, and therefore both are equally unpredictable."
Saad Hamada, a consultant for several formulators in Egypt, has encountered trouble obtaining dimethoate, malathion and chlorpyrifos from China, but for different reasons. He said impurity percentages of Chinese imports tend to be at maximum levels specified by the Food and Agriculture Organization of the United Nations (FAO). That, along with a lack of registration documentation and acute and chronic toxicity studies of the Chinese products, often hinder their entry into Egypt, Hamada said.
The situation has prompted him to turn more frequently to Indian sources, where the same imported technical product "offers more efficiency – up to 85%." Hamada added, "The raw materials we import from India are the best in terms of FAO specifications in terms of the percentage of harmful impurities."
Some companies, like Alcedo, Romania's leading distributor of agrochemicals and seeds, say that they are aware of the supply shortages, but they haven't felt the impact.
"The Romanian market was not at all affected. Products are available, and today the offer exceeds the request," said Gabriela Rizescu, Alcedo marketing director.
Can't 'Rely' on Glufosinate
Demand for glufosinate in the United States is flourishing on the spread of glyphosate-resistant weeds in the Midwest and South, but again: There just isn't enough of it to go around. The herbicide is a complex active ingredient that unlike glyphosate, requires a long, expensive production process, and with only a few producing it in China, swaths of the market are out of luck.
Bienapfl of WestLink Ag said his troubles hunting down glufosinate began last year. Bayer CropScience opted to ship most of its Rely product to the Corn Belt, for all intents and purposes abandoning the specialty crop-dominated Western states, where his members are located. He was forced to source a generic glufosinate alternative called Reckon from a smaller supplier, Source Dynamics.
"Bayer was on allocation from the Chinese, and because [of the lack of] Chinese production Bayer sold up to take care of the Rely business," he explained. "That corn market [in the Midwest] is a huge segment of a lot of people's business. As such, they're going to protect it." He ended up with 15% to 20% of the product he needed.
"All of us in the industry are doing more scrambling, paying a higher price. A good example: we are now paying over double for dicamba from two to three years ago, and we're happy if we can get it," he said in an interview with FCI.
Some companies are stepping up to meet booming glufosinate demand, including Nufarm, Willowood and UPI – the U.S. arm of Indian agrochemical company UPL – which is constructing a glufosinate plant in India. "All say they will have product before the year's out," Bienapfl said, and UPL's building of a new plant suggests it will be a more dependable supplier than those that are sourcing from China.
When asked about the potential of Indian companies to outmaneuver the Chinese as primary suppliers, Bienapfl commented, "I have found over the years that you have a lot of political pressure to bear on whether a company can operate, such as the shutdowns for environmental reasons. I see more of that coming out of China than I do India due to stricter regulations initially in India."
Why Some Are Poised to Profit
Hong Kong-based Rotam, which is known for its product procurement expertise, built the model for sourcing that many others are trying to emulate. It bought large plots of land in China, constructed factories and began offering finished products supported by a full and independent registration package in the countries where they are sold. Rotam's ownership stakes and partnerships in China give it the upper hand over less nimble competitors when supply of everything from intermediates to adjuvants to AIs is squeezed. The company is set to become a top supplier of methomyl sold under different brands around the world, and it is one of the very few suppliers of dicamba in the United States, where it is sold under the Topeka name.
Jean Michel Duhamel, Rotam chief commercial officer, explained that as the company saw the current market conditions coming, it proactively built up its so-called Strategic Supply Department (SSD), which specializes in vetting, developing and monitoring vendors. These vendors must have legal-compliance stability in China and meet Chinese regulatory requirements, have fully backward-integrated production and fulfill or exceed environmental protection facilities and standards. All are audited to ensure they are complying with Rotam's quality standards.
"Through the SSD team, we have very close communication with our strategic vendors by providing precise market intelligence, forecasting supply and price trends months ahead and guiding them to purchase the right inventory at the right time to minimize the risk of excess stock, as well as maintaining reasonable raw material costs," Duhamel explained. "That's how Rotam can keep a reliable source of suppliers."
With AIs like acephate, glyphosate, chlorpyrifos, profenofos, nicosulfuron and methomyl in short supply, Rotam and its vendors lock up volume and prices at low season. Duhamel offered up the case of imidacloprid as an example: While the price of the AI has soared this year due to environmental controls, Rotam's relationships with vendors helped it secure sufficient quantities in a timely manner and at a reasonable price.
Has the company lost any suppliers to the regulatory fallout? Yes, but not to the point of crisis, Duhamel said, explaining that it typically has at least three vendors for each raw material to soften the impact of shortfalls.
Like Rotam, Delhi-based Crystal Crop Protection has had a longtime presence in China and has regularly procured key AIs in large quantities, gaining cost advantages over the years. With about $200 million in annual turnover, the supplier of nearly 90 products is investing heavily in registering actives, sourcing raw materials, boosting inventory levels and manufacturing capacity and automating processes. Now, the company is sharpening its focus on targeting international markets, said Harish Shirke, Crystal vice president of international business.
"We have been passing a major chunk of these benefits to our clients for whom procuring from Crystal offers both tangible and intangible benefits," Shirke said. "In India, we have received a few registrations this year and a few are expected to come in the following year. We have already strengthened our procurement sources to ensure timely supply, and this will give us a definite competitive advantage in India in the long and short term."
In international markets, Shirke said, it is making strides in multiple geographies. "With our strength to procure the best quality material at the best prices, Crystal will definitely play a large role in the growing global agrochemical market." He added, "We are registering a few molecules in various countries on a war footing."
Gharda Chemicals, based in Mumbai, sees opportunities, rather than threats, being created the more that Chinese prices creep up. "This will open up a few cost-competitive markets in South America and Southeast Asia … We are more aggressively pursuing registrations in these markets," Gharda Vice President Dr. Kailash Singh said. The company is geared up to expand its production capacity for dicamba and chlorpyrifos, of which it has seen heightened demand, as well as for fipronil and indoxacarb – two of its hallmark products.
Singh added, "We see export opportunities on the rise as well as increased demand in-house with inconsistent or high-priced supplies from China."
Gharda is self-reliant or sources from suppliers outside China for nearly 80% of its raw materials, but it has seen prices climb by 50% to 60% for some materials, such as DETC, trichloropyridinol and dimethyl carbonate, which it sources from two to three top suppliers in China. While its supply has not been disrupted, it is shortlisting new vendors for both better pricing options and as a contingency plan, Singh said.
The End Goal: Cleaner Air, Water and Soil
If there is any company that looks like a winner in the bid for a foothold in the supply chain, it is Israel's Adama. Not only does the company formerly known as Makhteshim Agan have a new brand identity, Adama is transforming itself in other big ways. It is in the process of integrating assets with ChemChina following its 2011 acquisition by the Chinese chemical giant. Ignacio Dominguez, Adama chief commercial officer, said that improved access to the market and new facilities will allow it to compete as a first-class supplier. In an interview with FCI, he called the supply chain environment "very positive."
After all, he pointed out, the end goal is preserving the Chinese air, water and soil.
"The industry will suffer [temporarily] because some of these not-so-sustainable players are forced to take measures. It's something that the industry I'm sure will find solutions to over time, and it will not be affected that dramatically," Dominguez said. "The movement in China we can only look at with sympathy."
How do buyers approach the market now? Adrienne Chang, president of the Chinese agrochemical company Nanjing Red Sun International Trading Co., said that more consolidation  and changes in the Chinese market are inevitable, so paying extremely close attention to the raw material situation in the country is necessary. Red Sun, she explained, has not felt the impact of the regulations, because it began planning for this new reality "many years ago."
Chang believes that in the long term, the chemical industry is too important to China for it to allow regulations to cause it harm.
"Are some products really gone? I don't think it's going to happen in the near future," she said, adding, "The government is trying to improve the level of the whole industry … Big [Chinese] companies will be more competitive and more sustainable in the future."