Search the world of Crop Protection Products
Looking for a specific crop protection product - agrichemicals or biopesticides? Search through our comprehensive collection of products from around the world and connect directly with suppliers.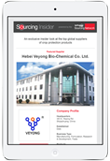 Subscribe to Sourcing Insider e-mails for your exclusive insider's look at the top global suppliers of crop protection products.
Subscribe
Agrichemicals
Albaugh Enters Collaboration on New Wheat Varietites
Colorado Wheat Research Foundation, Inc., Albaugh, LLC and Limagrain Cereal Seeds, LLC have announced the release of the first two new herbicide-tolerant CoAXium Wheat Production System varieties.