Search the world of Crop Protection Products
Looking for a specific crop protection product - agrichemicals or biopesticides? Search through our comprehensive collection of products from around the world and connect directly with suppliers.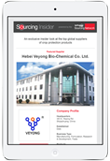 Subscribe to Sourcing Insider e-mails for your exclusive insider's look at the top global suppliers of crop protection products.
Subscribe
Africa/Middle East
Zambia's AGCO Enters Retail Finance Partnership
The new partnership between AGCO, its national distributor BHBW Zambia Limited and the Zambia National Commercial Bank Plc (Zanaco) will provide retail financial solutions for farmers purchasing machinery.
Americas
Syngenta Acquires Abbott & Cobb
Syngenta announced it agreed to acquire Abbott & Cobb, a U.S.-owned independent breeder, producer, and marketer of vegetable seeds.