Search the world of Crop Protection Products
Looking for a specific crop protection product - agrichemicals or biopesticides? Search through our comprehensive collection of products from around the world and connect directly with suppliers.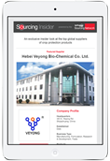 Subscribe to Sourcing Insider e-mails for your exclusive insider's look at the top global suppliers of crop protection products.
Subscribe
Americas
Bayer-Monsanto Deal Wins EU Approval
Commission concluded that the divestment package enables a suitable buyer to sustainably replace Bayer's competitive effect in these markets and continue to innovate, for the benefit of European farmers and consumers.