Search the world of Crop Protection Products
Looking for a specific crop protection product - agrichemicals or biopesticides? Search through our comprehensive collection of products from around the world and connect directly with suppliers.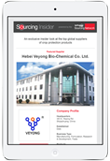 Subscribe to Sourcing Insider e-mails for your exclusive insider's look at the top global suppliers of crop protection products.
Subscribe
Americas
AgBiome's Howler Fungicide Receives EPA Approval
The first product to be marketed by AgBiome Innovations and developed by AgBiome Inc., is a biological fungicide that is highly effective against fungal diseases common to high-value crops.