Search the world of Crop Protection Products
Looking for a specific crop protection product - agrichemicals or biopesticides? Search through our comprehensive collection of products from around the world and connect directly with suppliers.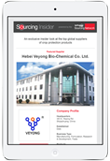 Subscribe to Sourcing Insider e-mails for your exclusive insider's look at the top global suppliers of crop protection products.
Subscribe
Agrichemicals
Adama Enters into Collaboration with RiceTec
Adama Agricultural Solutions and RiceTec have entered into a global collaboration aiming to deliver new rice hybrids and weed control solutions to farmers worldwide.
Adjuvants
Clariant Steps Up R&D Investment
Inaugurated on June 21, the new greenhouse at Clariant Innovation Center (CIC) takes Clariant's Crop Solutions product development support to a new and unique level.