Search the world of Crop Protection Products
Looking for a specific crop protection product - agrichemicals or biopesticides? Search through our comprehensive collection of products from around the world and connect directly with suppliers.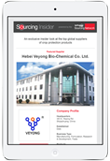 Subscribe to Sourcing Insider e-mails for your exclusive insider's look at the top global suppliers of crop protection products.
Subscribe
Agrichemicals
Syngenta 1st-Qtr Sales Dip on Pricing, Cold Weather
Syngenta reported its first-quarter group sales of $3.7 billion were 1% lower from a year ago, hurt by lower pricing, a cold weather in Northern and Central Europe, and reduced demand for fungicides and herbicides in Brazil and Paraguay.