Search the world of Crop Protection Products
Looking for a specific crop protection product - agrichemicals or biopesticides? Search through our comprehensive collection of products from around the world and connect directly with suppliers.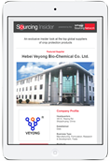 Subscribe to Sourcing Insider e-mails for your exclusive insider's look at the top global suppliers of crop protection products.
Subscribe
Agrichemicals
The Verdict on Dicamba (So Far) in 2018
Does 605 official dicamba-related injury investigations and/or approximately 1.1 million acres of dicamba-injured soybean constitute a problem for U.S. agriculture?