China Price Index: Reimagine Strategic Sourcing from the China Agrochemical Industry
Editor's note: Contributing writer David Li offers a snapshot of current price trends for key herbicides, fungicides, and insecticides in the Chinese agrochemical market in his monthly China Price Index above. Below he provides insight into four key areas that, if reimagined, can lead to intelligent solutions on future strategic sourcing.
COVID-19 brought huge strain on global sourcing and supply chain management for multinational companies and global distributors. The consequence of COVID-19 onset is still unpredictable since a new, more transmissible form of SARS-CoV-2 is rapidly spreading in many countries and poses a threat to unvaccinated and partially vaccinated people as mentioned by Scientific American.
During the new form of COVID-19 spreading, global demand has gradually returned to normal, especially in U.S. and EU market. According to the World Bank, global growth is expected to accelerate to 5.6% this year, largely on the strength in major economies such as the U.S. and China.
"The United States and China are each expected to contribute about one quarter of global growth in 2021," according to the World Bank. "The U.S. economy has been bolstered by massive fiscal support, vaccination is expected to become widespread by mid-2021, and growth is expected to reach 6.8% this year, the fastest pace since 1984. China's economy – which did not contract last year – is expected to grow a solid 8.5% and moderate as the country's focus shifts to reducing financial stability risks."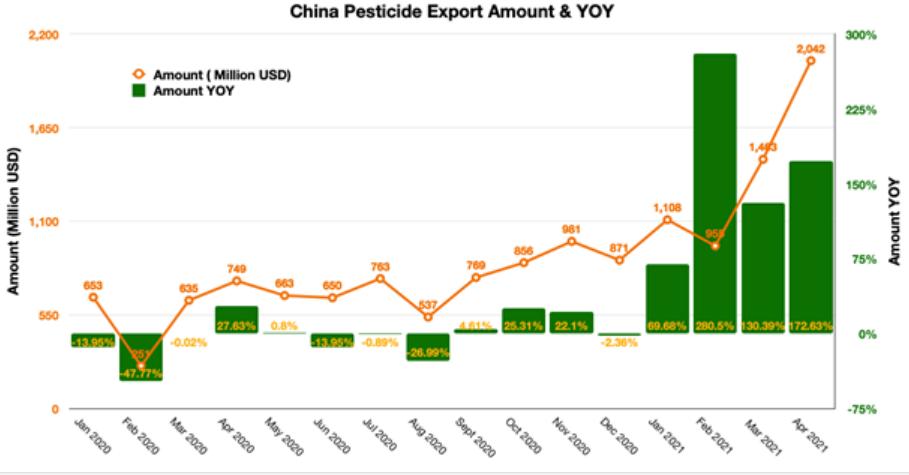 The amount of China growth provides an important point. China is the critical country which is capable of flexibility with complicated production on a big scale. In the global crop protection market, the exporting data of China agrochemical also shows such conclusion. According to ICAMA, China is the key supplier of the main active ingredients to global market by the continuous production in 2021.
From the beginning of the second quarter of 2021, China agrochemical exports reached 256.9 thousand Mt. And the amount of exporting was 2.042 billion USD, which was the highest amount since the beginning of the 2020 COVID-19 pandemic. The high volume indicates that the early demand in 2021 is pushing global procurement to come early. And the peak amount was mainly because of the high pricing of glyphosate.
The CAC 2021 was held on 22 June in Shanghai. The market was in a cautious mood about the glyphosate price. The key manufacturers in China have to re-evaluate the influence of high glyphosate price to global farmers. With pressure of high raw material price, the manufacturer CFOs had to consider the return of investment (ROI).
When high raw material price works along with high EXW price of glyphosate, the financing to manufacturers becomes more important. Big contracts with multinational companies can maintain the profit margin with consistent cash flow. And key traders in China also became a channel to have the cash back for new investment on production. The dynamic balance brought more difficulty on China strategic souring for small and medium distributors. Without doubt, the impact of the high cost of glyphosate and freight cost will also reshape the competitiveness in global distribution. And moreover, the farmers' behavior is changing to request a new marketing strategy.
The stable high pricing of glyphosate will likely remain until the end of 2021. There are several factors impacting the high glyphosate price, including:
Current contract line is still long since the gap happened in the 2021 season.
High raw materials price.
High CNY currency to protect from inflation.
Strong and early LATAM demand.
Long lead-time needs bigger safety inventory by early demand comes along with higher volume.
Shortage of shipment and containers.
Stable demand from downstream due to the farmers' demand on relative low-cost non-selective herbicide.
Dry weather in LATAM could result in high consumption of glyphosate in the fall of southern hemisphere.
High price of food commodities drives farmers to input more agrochemicals.
The strong price of glyphosate could be attractive to the capacity expansion. When multinational companies increase glyphosate production, the supply chain needs more time to prepare raw materials of glyphosate. Multinationals' price of glyphosate will not be at very low level since they are also facing the inflation caused by the QE and structure shortage.
Normally there are two reasons to cause inflation. One reason is quantitative easing policy. The other one is the shortage of commodity supply. The U.S market is facing the structure shortage of supply due to the disruption in the global supply chain. The Biden Administration is moving to fix supply chain bottlenecks, according to the New York Times. The Supply Chain Disruptions Task Force will focus on areas where a mismatch between supply and demand has been evident. The agriculture and food industries are key segments that need to be alleviated of bottlenecks and supply constraints.
With so many challenges, sustainable competitiveness will always be the target of every crop protection company in the world. In August 2020, McKinsey posted an article titled "Reimagining procurement for the next normal". The key suggestions for the leaders on procurement can bring some insights on novel sourcing strategy from the China agrochemical industry. If we combine them with strategic sourcing of China agrochemical, there will be some intelligent solutions on future strategic sourcing.
Four Areas to Be Reimagined for China Agrochemical Supply
Strengthen the Agrochemical Supply Chain Resilience

Transparency of China Agrochemical Market
Valuable Categories Creation
Reconnection with Alternative Choice

Design of AI & Formulation Category Value-Creation Strategies

Focus on Value Creation and Risk Control with Potential Risk Analysis
Breed AI Sourcing Strategy with Suppliers
Investigation & Investment on Sustainable Formulation

Develop & Invest on Pesticide Supplier Partnerships and Co-Innovation

Alliance on Supplier Advantages and Invest on Co-Innovation
Sensitive to the Changing of China Agrochemical Industry
Understand the Culture and Characteristics of China supplier's team
Deliver Sustainable Competitiveness to End Market Successfully

Transforming to Future-ready Operating Model in Crop Protection Industry

Agile Action of China Sourcing
Data and Analytic Skill
Attracting Novel Talent with Expertise of China Agrochemical Sourcing
Integration of Financing and R&D Resources in China Agrochemical Industry
Strengthen the Agrochemical Supply Chain Resilience
Since the block of international traveling, the transparency of China agrochemical market becomes more critical to make the right decision on right timing. It is not the era to bring cash into the China market for purchasing raw materials. The building of partnership relations with key Chinese suppliers will be the key to bringing more sustainable competitiveness for global crop protection companies. The transparency of Tier One Suppliers is the top priority to have more advantages than other competitors.
The valuable categories, like glufosinate sourcing in China, can have much more weight on the portfolio, in which there was glyphosate as key non-selective herbicides before. The sourcing strategy of soon off-patent molecules and just off-patent molecules will be also challenging for decision makers. The more valuable categories in the box, the more competitiveness can be achieved in global competition.
And global supply chain will request re-connection. Due to the shortage of containers and shipments, the lead time management for global distributors is difficult to control post-COVID-19. The sudden cost increasing in sourcing team's finance chart shown up on the open. The risk has to be reevaluated. And plan A and plan B must be renewed tightly for keeping business continuity with satisfied ROI.
Design of AI & Formulation Category Value-Creation Strategies
Demand-supply of agrochemicals are totally shifted by the structural shortage which cannot be solved in short time. Early demand is a new normal for global sourcing team. The QE (Quantitative Easing) and inflation by structure shortage brought risk on ROI management. So the agrochemical sourcing shall be focusing on the value creation strategy, meanwhile the potential risk shall be minimized.
Some AIs (Active Ingredients) are facing regulation issues to be phased out. And others are in high pricing level, like glyphosate. The alternative AIs will be always important. The patent AIs can be gained by third party alliance, for example, FMC announced long-term collaboration with UPL for Rynaxypyr AI. And the soon off-patent AIs and just off-patent AIs need early strategy to breed which need strategical alliance with China suppliers from strategy level.
Moreover, some sourcing leaders realized the importance of collaboration on sustainable formulation with key institutions and suppliers from China. For example, the China's big area of drone crop protection brought booming formulation R&D with novel technology. The lower dosage with same or higher efficacy by sustainable formulation will be one of the key sustainable competitiveness for market competition, especially when the AI price skyrockets.
Develop & Invest on Pesticide Supplier Partnerships and Co-Innovation
According to the McKinsey report, companies are looking for opportunities to create competitive advantages to counter the downturn that the pandemic has created. Only "investment" can create opportunity but just waiting for the things happen. The intensive feeling on farmer demand can support a successful strategy of sourcing from China. Global companies need easy connecting with suppliers' advantages by quick adaption for the changing market.
Strategic sourcing post-COVID-19 shall be extremely sensitive on future development of the China agrochemical industry. Sourcing teams need to build bridges between farmer demand and China supply. That's the most important and difficult part for success.
Because all the sourcing strategy is made by people. And different people could make totally different decisions facing the same environment. The top priority is to figure out and understand the characteristics of China supplier's team. The reputation of top leader teams needs to be considered since poor reputation can bury a novel project quickly or bring frustrating communication in coming decades. The opportunity cost could be very high when the global registration needs more time on safety evaluation.
The innovation will be a hot topic during the 14th Five Years Plan for China Agrochemical Industry. Developing co-innovation is a very strategical suggestion which is valuable to be considered. In the future normal after COVID-19, global distributors shall want to shorten the supply chain to reach China suppliers directly. When the end-user market meets China supply, the co-innovation on portfolios can bring sustainable competitiveness like new molecules or novel sustainable formulation targeting different marketing segmentation. The good business case shall be that Corteva did re-invent 2,4-D to create Enlist Duo for meeting the market demand in key crops.
Co-innovation will be the future model to use China's flexible, complicated production with big scale capability. It will be also the growing strategy for China suppliers as well. On 30 June 2021, Nutrichem and Corteva signed the contract on formulation production in Nutrichem's Beijing building. To meet the end user demand with profit is the biggest strategy for every China agrochemical companies in the future. Market intelligence will be not enough to achieve the sustainable business goals, market intelligence needs to work together with market penetration actions.
Transforming to Future-Ready Operating Model in the Crop Protection Industry
Agile action cannot be more critical than ever to fast growing companies and business units. Digital marketing and communication are the common actions when the COVID-19 pandemic hit the world. The block of international travel requires quick action for the supply chain to capture value. Novel human resource with quick response to the market changing will lead to a novel operation model. Fast and precise decision making with agrochemical expertise shall be critical for the leader on future successful strategic sourcing in the China agrochemical industry.
Data and analytic expertise are two capabilities for enhancement across the functions. The soft skills of China strategic sourcing on agrochemical required to cultivate solid partnerships with China agrochemical suppliers to collaborate effectively and efficiently at same time. Attracting novel talents is important to penetrate into the future trend of China agrochemical industry for global crop protection players.
As the second largest economy around world, there are many resources in the China agrochemical industry which can be used for global crop protection companies, like financing, R&D, and production. To serve the global crop protection market, the flexible and complicated production with scale up could be transformed to sustainable competitiveness. There are many players which are considering that China can be an engine to develop global economic growth. With strong China demand of protein, future global crop protection market has big potential to invest. What global sourcing leaders need to do is break obstacles with Chinese partners together.