China Price Index: How China's Agrochemical Industry Can Tame the 'Bullwhip Effect'
Editor's note: Contributing writer David Li offers a snapshot of current price trends for key herbicides, fungicides, and insecticides in the Chinese agrochemical market in his monthly China Price Index. Below he provides insight on why Chinese companies should use a more open attitude to understand its strategic positioning, prompt cultural understanding, and dare to go overseas when it matters..

I worked for Bayer CropScience China in 2012. A decade ago, Bayer CropScience China was faced with huge channel inventory and sales pressure. This was mainly due to the loss of a key product in Bayer's portfolio, fipronil (Regent). Beginning on 1 October 2009, the sale and use of fipronil-containing pesticide formulations was banned in China (with the exception of some sanitation and seed coatings for corn or other crop in dry land). The registration and/or production permit of approved fipronil-containing pesticide formulations for other uses was withdrawn.
The sudden absence of the core product forced Bayer's sales and marketing team to pick up the long tail of branded products again and to keep pumping large amounts of branded products into the channel to ensure that sales goals were met. The dual adversity of high inventory and key performance indicators (KPI) sales expectations also set the stage for the subsequent organizational transformation in Bayer CropScience China.
Today, as many uncertainties in the global supply chain — lockdowns in Chinese cities, shipment shortages, tight containers, port congestion, truck driver shortages — continue, excessive inventory replenishment continues to fuel the economy. It is a huge problem facing the retail consumption side. The divergence between pesticide sales growth and global pesticide consumption is growing.
The impact of a very small change in demand expectation from overseas farmers has gradually magnified within China's agrochemical industry. Demand being continually amplified through the supply chain is called the "bullwhip effect." When the demand from farmers weakened, a reverse weak demand passed to China's agrochemical manufacturers. Demand in the B2B market swings like a pendulum to and fro with the slightest change in farmers' demand expectations. 2022 may have been the start of a reverse cycle.
Lavie Bio Expands Bio-Inoculant Product for Spring Wheat to Durum and Barley
The situation in the overseas markets in 2022 resembles the high stock times experienced by the global pesticide market from 2012 to 2014. The global crop protection market has experienced two recent waves of supply shortages. The first wave was the COVID-19 pandemic beginning in 2020. When the outbreak first occurred, supply from China briefly broke down. While the country's supply recovered, the supply gap led to a shortage. Panicked buying in overseas markets drove a significant increase in pesticide sales.
In 2021, overseas supply chain disruption caused a second round of supply shortages. Early demand and concerns over supply chain disruption supported a gradual sinking of stocks through the channel. However, due to China's Double control policy in September 2021, which forced huge uncertainty in Chinese supply, almost all raw material prices experienced rocket-like heights. Faced with a rollercoaster of prices, the gamble on raw material purchases by overseas buyers between October and November 2021 amounted to an early prepayment of demand growth potential for 2022.
Early 2022, we saw slowdown in global demand due to high inflationary pressures and a lower willingness to pay those higher prices. The cost of goods sold continues to rise. The marginal effect of channel inventories diminishes, and demand becomes weaker. So, increased inventories do not generate more revenue. From May 2022, there is a deviation in the volume and value of China's pesticide exports, and although the range of deviations from June to July did not increase significantly, with lower shipping costs and better logistics, it will put more pressure on the price of Chinese agrochemicals in the 2023 season. In predicted analysis, risk assessment is very critical for future decision making. The world is on the brink of a crisis, or rather, we are in the midst of the crisis. Tightening monetary policy and fluctuation of food commodity prices could bring more risk on farming management.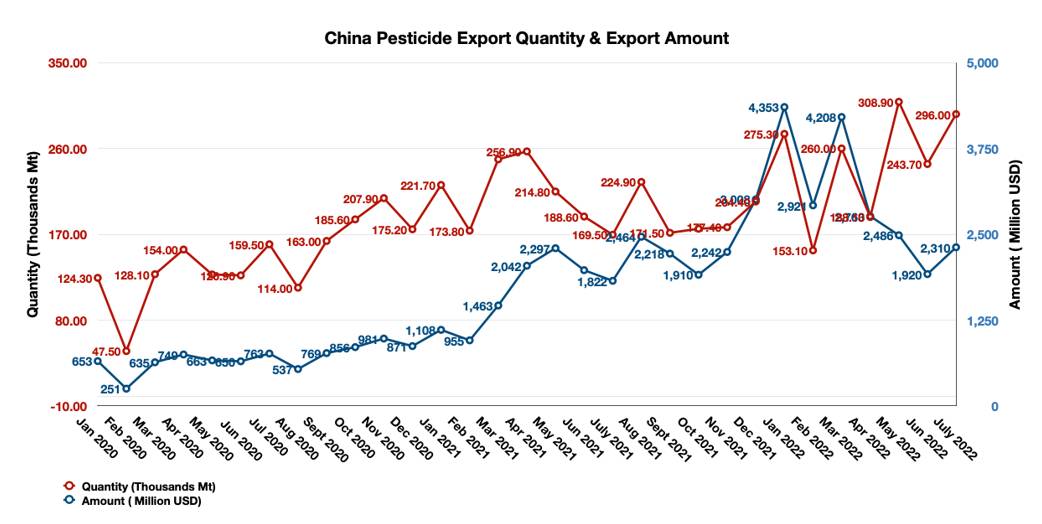 Another notable event has already occurred. We will see that global basic and fine chemicals industries face a third wave of supply shortages in the winter of 2022. With the risk of an energy crisis in Europe due to the Russian-Ukrainian war, global energy supply will have limited expansion this winter. Energy demand could reach an all-time peak due to extreme cold caused by a third La Niña event. At that time, chemical production, which is an energy-intensive sector, will be in extreme challenge.
As one of Germany's top chemical production giants, BASF would experience a huge impact. They would have to stop production if natural gas supplies fell to less than half its needs, as the world's largest chemicals group warned of the damage to its operations from Europe's power crunch. Gas shortages would have a dual impact on chemical production, according to BASF. There would not be enough energy for the production process and a lack of a critical raw material for the manufacturing of products, according to a Reuters report.
As a result of future supply disruptions or supply constraints in Europe, global demand for basic chemicals may shift to China, where the cost of high energy consumption industry is relatively lower and the chemical industry supply chain is well established. The shift in global chemical demand to China could push up the price of upstream basic chemicals, thus affecting the production cost of pesticide raw materials. However, the price of active ingredients is priced based on balance of supply and demand. Weak global demand would offset the support of higher AI prices.
European multinationals, such as BASF, Syngenta, and Bayer, may also suffer future supply shocks or disruptions for their patented products, raw materials that require further processing. Multinationals are not likely to reposition their IP products production overnight. But the diversity of supply chain needs to be considered in Asia Pacific, the U.S., and Latin America for future risk control.
The 2023 season in the northern hemisphere started in October 2022. In a market with high inventories, "how companies make decisions of future sales" is a key question. The total global capacity of glyphosate AI is over one million mt. It is estimated that Bayer CropScience has a capacity of around 370 thousand mt. And Chinese suppliers have a capacity of around 700,000 mt. With one company owning almost 40% of the capacity in the strategic category, the 2023 market trend for glyphosate will be determined by Bayer's sales and marketing strategy for glyphosate.
For the competition between multinational companies and Chinese suppliers, their position in the market circumstance determines the difference in decision making. Multinationals have incremental attribute due to global production capacity in the target market, stable supply chain, and systematic channel. As competition intensifies, multinationals can adjust upstream production resource allocation to match regional market strategies with high efficiency.
For Chinese manufacturers and distributors supported by Chinese manufacturers, they are at a position with stock attribute. The market strategy will be limited by safety inventory. Inventories are like a reservoir, and reservoirs require a continuous inflow and a continuous outflow to have sustainable profitability. But when the outflow of inventory continues to slow down, the risk of big water spilling over increases. This feeds back into financials in the form of reduced liquidity, increased interest rates, and continued high inventory costs. It is highly irrational for Chinese manufacturers to compete in a price war when the market experiences high inventory levels.
The distribution channel is still very important to the current crop protection market. De-channelization can reduce farmers' costs, but it cannot achieve a direct increase in farmers' purchasing plans. That's because agronomy within agriculture belongs to the life sciences, which contain a lot of high tech, and is very different from FMCG (fast-moving consumer goods). Farmers' choices of products offered by companies and the transmission of product value have to be done by the channel. The channel strategy is an extension of the producer's strategy, not the opposite of it.
In a phase of high inventories, the manufacturer's control of brand value with the channel will reach a new strategic level. Multinational companies are using digital tools to deepen their support for the expertise on agronomy for farmers. The channel is enhancing this professional technical support with pre-sales and post-sales approaches. I once likened glyphosate to water in a supermarket, and dealers are the organizations that are setting up the supermarkets (investments in supply chain facilities) and providing more diverse solutions to meet other farmer needs. In the "mobile internet era," dealers have not disappeared. It is only that part of the pre-sales work of the dealer has been replaced by the marketing department of the manufacturer.
In the face of competition from Chinese suppliers, such as the common price wars, it is difficult for multinationals to offer price discounts directly to farmers due to their solid pricing system. However, MNCs are likely to use non-price competitiveness to compete in the market and to ensure sales during the 2023 marketing season while stimulating stock reductions. Firstly, the GMO seed program of multinational companies is central to their competitive tools. Sales of seed programs are the key to the overall competitive market landscape, which dominates the use of burndown herbicides in combination with GM seeds. Multinational companies can balance the competition from low-priced glyphosate in the market through an overall discount on the seed distribution system. At the same time, branded products can be placed where core demand is located through the channel, thus increasing the ready-to-sell win rate.
In addition, glyphosate is not the only competitive tool for multinationals. Its product lines, such as patent compounds as well as biologics, can enrich the competitive strategy in the channel and supply side more in line with farmers' expectations. The launch of innovative products can act as a sales puller and stimulate the consumption of highly stocked products. For example, a Kitting strategy can combine fast-selling categories with slow-selling rate products to promote lower inventories. It can also work in reverse, allowing fast-selling categories to quickly take market share alone and meet demand. Finally, there is the digital platform for multinational companies. Digital tools make it easier for multinationals to grasp their customers' spending habits, and the underlying data behind them can be combined with a variety of marketing strategies for targeted marketing.
And for Chinese suppliers, simply developing higher overseas inventories does not make Chinese suppliers more profitable in overseas markets. It is a simple economic principle that the marginal effect of increased supply is diminishing due to excess supply, which I mentioned before. Cheaper, single burndown herbicides are becoming less attractive to distributors and farmers. Future Chinese product managers need to enrich the portfolio, which could really feed the demand with the profit.
Perhaps establishing a full strategic partnership — such as how Wynca became a strategic investor of Nutrichem — is a strategy leading Chinese glyphosate producers should follow. Chinese companies should add sustainable compound packages to their established pipeline over the next decade and provide customers with a consistent supply package through formulation innovation. Strategically, companies must adhere to a strategic certainty of continued investment in crop protection that will carry through the next 10, 20, or even hundreds of years of corporate development without easily changing their corporate vision and mission. This is the future of Chinese agrochemical manufacturing companies.
With the accelerated integration of overseas channels, I still have not seen Chinese agrochemical manufacturers' investing. For the channel, Chinese companies should use a more positive and open attitude to understand its strategic positioning, prompt cultural understanding, and dare to go overseas when it matters. They shall turn the strengths of the Chinese production sector into a part of global agricultural value. This should not be achieved only through a B2B strategy of supplying to everybody, but rather they should get their feet dirty and go out into the global farming world to find the answers.